Once a month my team, the "Wicked Stampahs" (we are all from the Boston area) get together for a creative team meeting.  Tonight was an especially fun meeting because we all were so excited to preview and chat about the new 2017/18 Annual catalog.  One of the many perks of being a Stampin' Up! demonstrator is to preview and purchase from the new catalogs a little bit earlier than anyone else.  We all had different favorites, which makes it even more fun because we convince each other why we should buy the other's favorite.
In addition to chatting, doing show & tell and flipping through the new catalog, we made three cards using 3 new stamp sets.  These cards were based on products that I pre-ordered and received this week.  I had fun creating designs using the new colors and stamp sets.  My favorite new In Color is Lemon Lime Twist (my second favorite is Berry Burst and they look really nice together).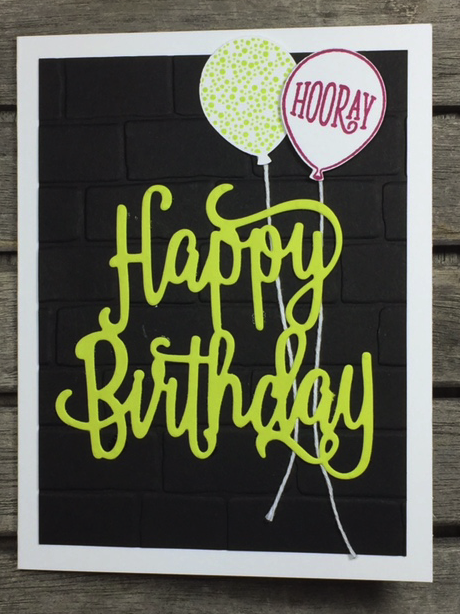 This card just pops with the contrast of the Lemon Lime Twist happy birthday and black and white background.  It's almost like someone spray painted the happy birthday on a brick wall (embossed with the brick wall impressions folder).  Those two balloons come from the new coordinating Happy Birthday Gorgeous stamp set (which works perfectly with the Balloon Bouquet punch.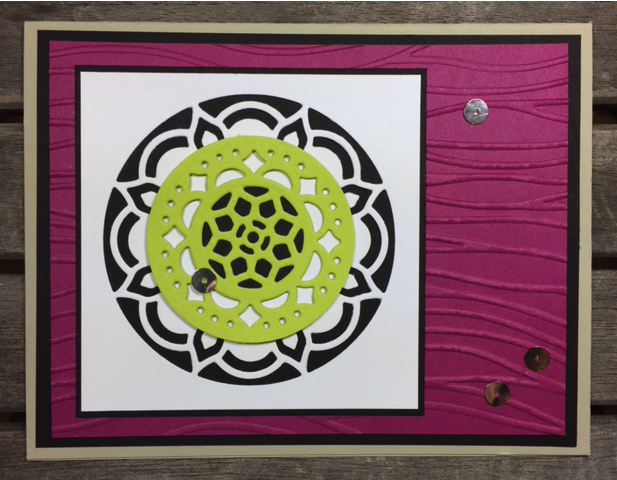 Don't you love the Lemon Lime Twist and Berry Burst combination?  They are bright colors (which is why I love them), but you can tone them down with neutrals like I did here with the black, white and Sahara Sand.   There are so many combinations of medallions you can make with the Eastern Palace suite!!!  Teresa brought a board of examples of the different medallions.  I think she said there are 42 different combinations!!!  I am planning on making some examples and showing you in a future post.  Don't forget the special bundle price for the Eastern Palace Suite is only good for the month of May.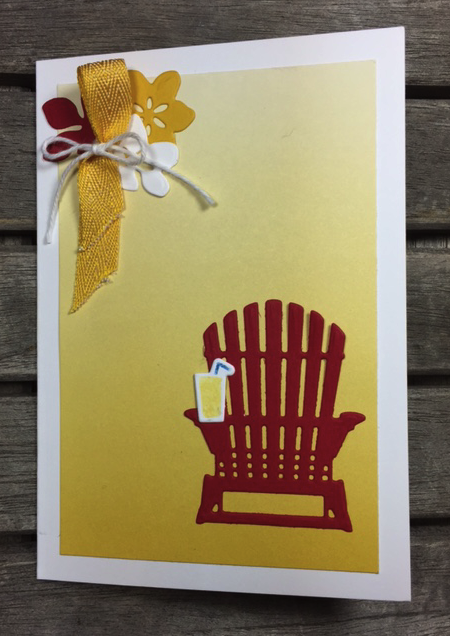 I would love to be sitting in this chair!  This card is made with the Seasonal Layers framelits (although there is an awesome coordinating stamp set called Colorful Seasons that I can't wait to use).  Wait until you see the new Color Theory paper stack!  It's one of my favorites in the catalog.  I used the whisper white notecards & envelopes and cut the ombre sheet from the paper stack in half so I could get two background layers from one sheet of 6 x 6 paper.
Now is the perfect time to join Stampin' Up! and my Wicked Stampahs team so you too can get to play with new products, papers, inks and tools.  All you need to do is purchase a Starter Kit (you can even order these new products as part of your Starter Kit).  You can order your kit right here: http://www.stampinup.net/esuite/home/christinejosti/jointhefun
Previous Posts on the Eastern Palace Suite
Stampin' Up! is offering two bundles from the new catalog during the month of May.  Included in these bundles are free products – but this special will no longer be available after May 31.  Eastern Palace Bundles
Make your own tassel with this beautiful eastern palace medallion card
Use Your Big Shot to Create Stunning Details with the Eastern Palace