Grab a cup of cocoa and a gingerbread cookie (alright, maybe a cup of tea and an english muffin) and spend some time looking through this amazing Holiday catalog.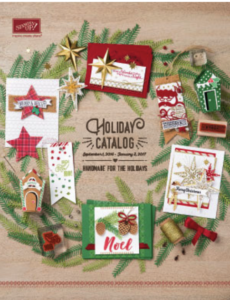 Click HERE to see all 55 pages of the Holiday catalog.
Stampin' Up! really outdoes itself with each new publication and this one is truly spectacular.  I can't decide which is my favorite, but certainly the Candy Lane Suite is right on top of my list.  You will find new products to make anything Halloween, Fall/Thanksgiving, Christmas and New Years.  You may want to have a pad of paper and pen next to you while leafing through.
To make September 1st even better, today begins the first week of three with it's Special Offers announcement.  Stampin' Up! will be offering select, new products at 25% off each week.  All you need to do to go shopping is click the "Shop" tab at the top of this website.