Hi everyone!  The sun is shining, the rain has moved on and the new 2017/18 Stampin' Up! Annual catalog goes live today.  Today is a very good day.  There's a little transitioning going on at the Stampin' Up! website, converting the ordering from the old catalog to the new and it should be ready by 2pm today (it said 12pm mountain time and I think that's the right conversion).  I'll be checking throughout the day to see if the switchover happens a little earlier.
In the meantime, here is a link to the online version of the catalog for your viewing.  Grab a cup of tea, hot water with lemon, coffee or juice, sit back and enjoy all the great stuff that is now at our fingertips.  I'll be back later with you today.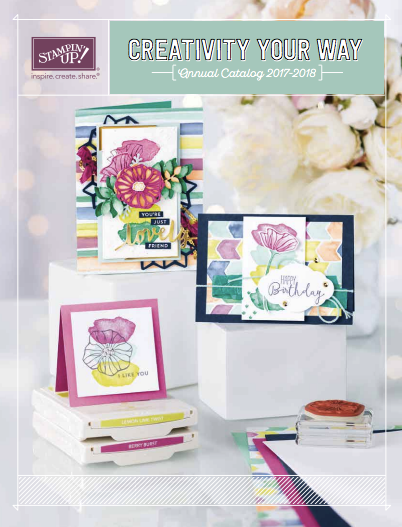 click this link to access the catalog.
Don't forget to sign up to "attend" my Open House in an Envelope.  I'll give you a catalog, pre-cut pieces to make 3 cards and some more surprise goodies.  And, if you are an attendee and place an order in June, I'll send you your thank you door prize.  To see more information on this Open House that anyone in the USA can attend, click here: http://mailsomethingpretty.com/open-house-envelope-youre-invited/