Tomorrow, November 10 at midnight is the deadline to subscribe or re-subscribe to Paper Pumpkin and receive the Special Edition – Holiday Box.  The inside is a secret – but I'm told if you like the outside, you'll LOVE the inside!  I can't wait to receive mine.
Paper Pumpkin delivers a paper crafting project (cards, gift wrapping & home decor) each month with all the supplies you need right to your mailbox, all for only $19.95/month (shipping is even included).  No need to go to the big box craft store to shop a la carte for your paper, ink, stamps, envelopes & embellishments.  Paper Pumpkin has got you covered.  They do the design work, the cutting & prepping.  All you need to do is follow the directions (included or on YouTube) and assemble, or create your own project with the included supplies.
Don't delay, you are going to want this box!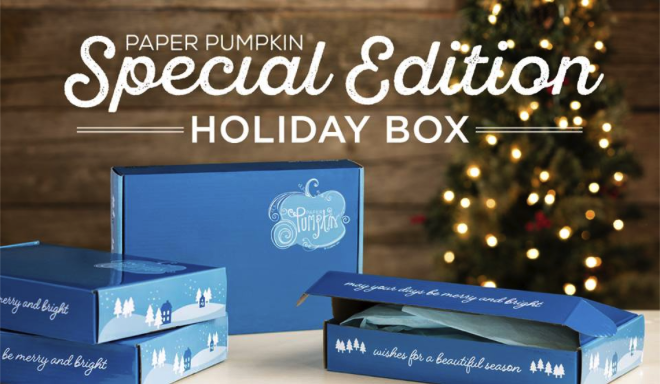 Each month is $19.95 (which includes shipping).  You will receive all supplies: stamps, inks, paper, necessities & directions to make the project in the box.  There is no time contract and can cancel at any time (but I don't think you'll want to).