So many of you have been making your lists, folding the pages you want to remember and going through a pack of post-it notes marking up everything you want.  Today is the day you have been waiting for!  You can now order from Stampin' Up!'s 2017 Holiday Catalog!!!
If you still need a copy of the Holiday catalog, please let me know and I will get one to you.  There's nothing like having an actual copy in your hands.  You can also view the catalog right online, click HERE and you will see it all. You can also access it by clicking on the Stampin' Up! Catalogs link on the menu bar of this website.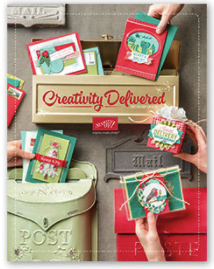 Check back here soon to see the samples I have been working on.
Would you like to receive a FREE Christmas stamp set that isn't even any catalog?  If you host a qualifying party of $300, you (as the hostess) will earn the Merry Patterns stamp set for free.  Now is a great time to host a party because of the launch of the Holiday catalog, everyone likes to make holiday gifts & cards.  You can either host an actual party, having guests come to your house or mine to see & learn about Stampin' Up! products and making two of their own, OR, you can just collect orders over a period of time and group them together (this is a great way for friends who live far away).  Let's pick a date before all of the Holiday busyness takes over your calendar.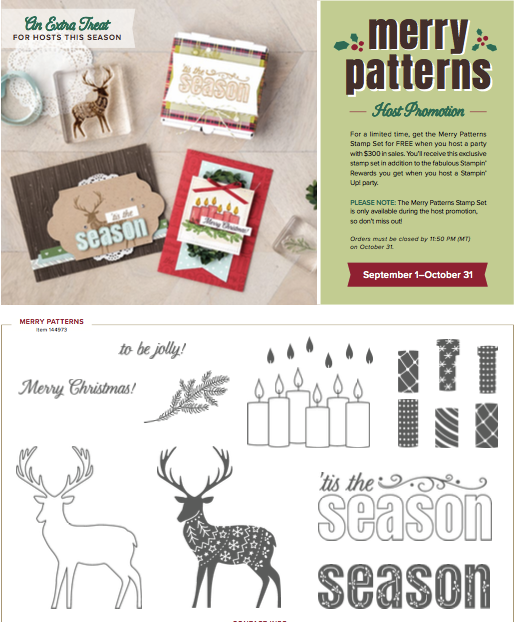 This is a photopolymer two-step stamping set which makes it so easy to create layers.  Even though this is a Holiday set, I can picture those candles being stamped in birthday colors, what do you think?  I bet you will also see a clever person on Pinterest increasing these 6 candles into 8, thus being able to make Hanukah cards & tags. So what are you waiting for?  Gather some girl friends & host a party to get this stamp set for FREE (this set will never appear in a future catalog).  Let's do it!