Super Bowl excitement is everywhere:  the radio, tv, stores, those awesome ads, school spirit days, church and I could go on and on, especially if you live in the Philadelphia or Boston areas.  I thought, why not do a Super bowl beer bottle card challenge?  It's a team color card challenge: Tranquil Tide, Basic Black and Smoky Slate verses Night of Navy, Whisper White and Real Red.  Eagles colors versus Patriots colors.  Which card (team) is going to win?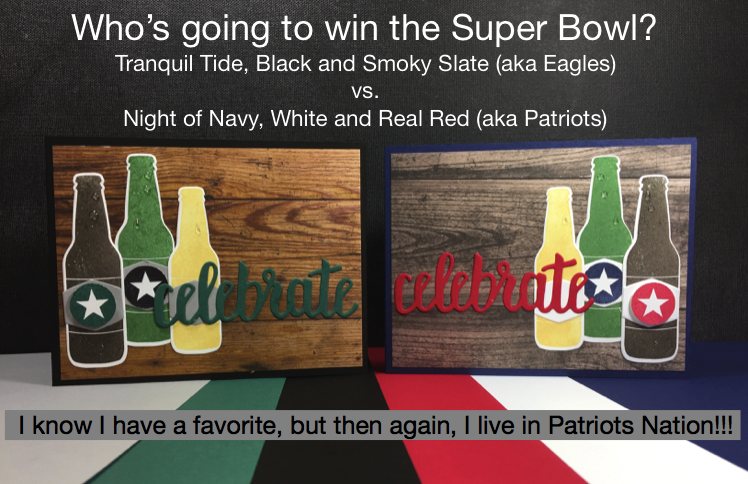 Do you have a favorite team color combination?  Is it the same as your favorite team preference: Eagles or Patriots?  Leave a comment and let me know who (or which) you are rooting for.
What I used to make my Super bowl beer bottle team color cards
You can see that the layouts of the cards are exactly the same, but in mirroring images.  I thought it looked more competitive that way.  Many of the Bubble Over stamp set samples found on Pinterest are of the soda variety (or tonic or pop, depending on where you live).  I thought, in the spirit of the Super bowl, the bottles would make great beer bottles.  I do not like beer, so I wasn't sure which type would be the favorite flavor: lite, dark or German (apparently German is the only type found in green bottles, I asked my husband).  Maybe they should all be Sam Adams beers since the Patriots are going to win??
The Bubble Over bundle, which saves you 10% when purchased together, is the perfect beer making kit (or soda kit in any flavor).  The framelits cut out the bottles for you so there is no fussy cutting with scissors, and there are lots of great pieces you can use to layer your bottles, including a straw, bottle cap and labels.
For the background, I used different wood patterns from the 6″ x 6″ Wood Textures Designer Series paper stack.  There are so many uses for this wood paper.  I just made a Valentine card with the wood paper that I will post in a future post.  It's a really great go-to pack of paper.
Super Bowl Flash Sale!
Place an order (no minimum) during Super Bowl weekend and I will mail you the winning team's card and a pack of mini-dimensionals (another go-to product of mine, especially when making the sliding barn door from the Barn Door Bundle).  If you prefer the losing team's card colors, I will send you that card instead (they both are great looking).  All you need to do to shop is click HERE.  Be sure to shop during Super Bowl weekend to win your prize.  Hostess code: U4BTVQRF.
So what do you think?  Eagles or Patriots?  Let me know.