Stained glass is beautiful and illuminating (but time intensive, expensive, and not easy to give away).  Use this stained glass technique on vellum and you will find yourself to be an instant expert, giving away many cards with happiness.  This card is actually completing three of my today's checklist items:  1.  I wanted to create my own design and send it to an encouraging, Australian demonstrator friend (Ann, if you are reading this, you may want to stop so as not to ruin your card surprise), 2.  a blog post for all of you to read, and 3. participate in the color challenge from this week's Global Design Project challenge (#GDP105).
This week's color challenge was to use three colors together: Lemon Lime Twist, Peekaboo Peach and Tangerine Tango.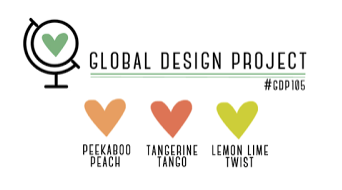 Here is my design: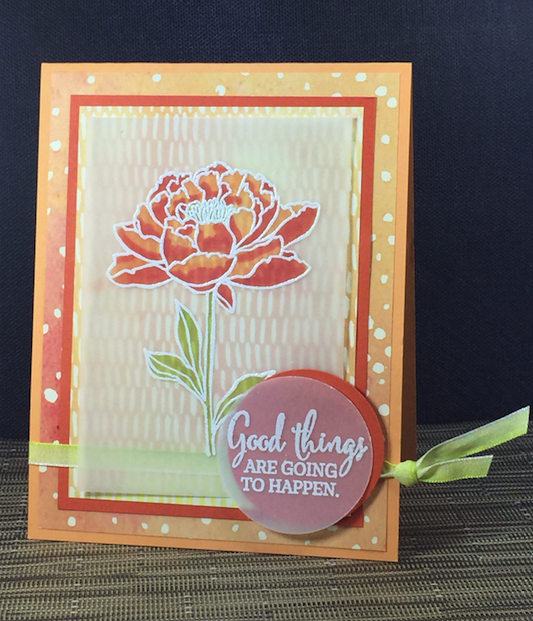 I'm really happy with how this card came out.  I used white embossing powder (instead of the traditional stained glass black) to create my lines.  I embossed the peony flower onto vellum paper, as well as the "Good things are going to happen" sentiment.  I'm really happy with the soft effect the vellum creates, both with the coloring and the partial transparency over the patterned paper.
The Stained Glass Technique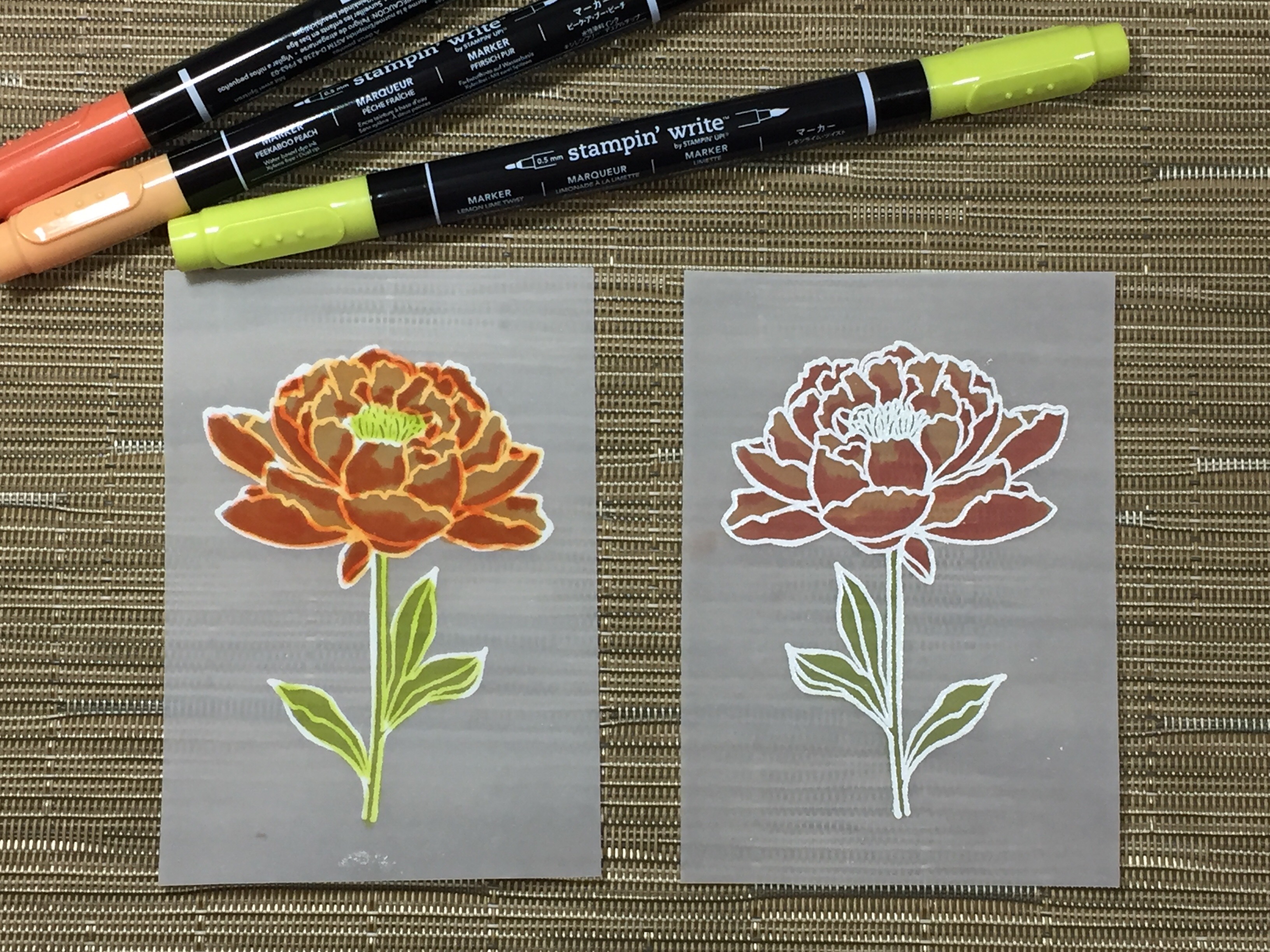 I have two samples here.  Both are the exact same, however you are seeing both the front and back sides.  I used my Lemon Lime Twist, Peekaboo Peach and Tangerine Tango Stampin' Write markers.  When you do the stained glass technique, you want to do your coloring on the back side (picture on left).  By coloring on the back side of the vellum/image, you don't have to worry about the lines as much as if you were to color on the front.  Also, the color saturation becomes lighter once you flip it over, giving it a softer look.  Keep this fading in mind when choosing your colors.
Note:  If you wanted to use an ink pad instead of embossing, you just need to let the ink dry on the vellum.  It takes a little while.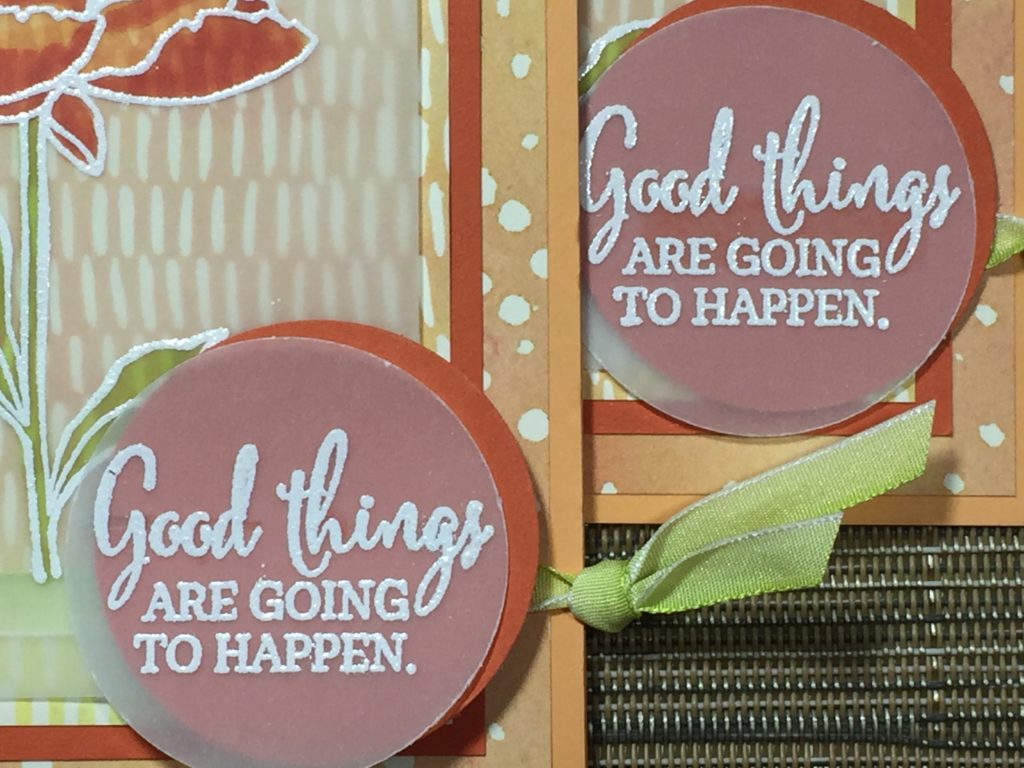 Vellum can be a little tricky to adhere because it is transparent.  What you need to do is hide it.  See the two examples above?  The one on the right has snail adhesive peeking through under the "Good things".  The one of the left has the adhesive hiding behind the "Good things".  Luckily, vellum is very light and doesn't require much adhesive to make it stick.
Materials I used:
Stamp set – You've Got This
Ink – Versa Mark (this is a clear, sticky ink to be used with embossing powder)
Stampin' Write Markers – colors: Lemon Lime Twist, Peekaboo Peach and Tangerine Tango
Paper – card base is Peekaboo Peach, framed paper is Tangerine Tango, Vellum and the patterned paper comes from the new Painted Autumn Designer Series Paper in the 2017 Holiday Catalog
White Embossing Powder
Ribbon – Ombre Lemon Lime Twist Ribbon
1 3/4″ Circle Punch
I hope that you give this stained glass technique on vellum a try.  It's so easy, some may call it a stained glass hack.  Whatever you call it – technique or hack, it is beautiful.