I know I've mentioned Paper Pumpkin kits before, but now is a great time to mention them again.  Paper Pumpkin kits are a must have!  Each month, you receive stamps, ink and all the paper (and sometimes extra) you need to make a fun, paper crafting project.  Everything is precut and ready to assemble.
Paper Pumpkin does most of the work for you, so you can get right to the fun!  Whether you are a stamping pro or newbie, it is now easy to relax and enjoy your favorite hobby – crafting.  Just imagine having the time to be "that person" who makes all the cute things and makes it look easy!  Now you can be "that" person without all the fuss of design, shopping & prepping.
Why mention this now?  On July 17, your first Paper Pumpkin kit will be only $5!!!!  You need to subscribe on July 17 and use the promo code ONEDAY0717.  Just click HERE or the Paper Pumpkin circle on the right sidebar to subscribe.  After this first $5 month, your subscription will resume to the regular $19.95/month until you tell it to stop (or you can skip months too).  No shipping costs, it's already included.
I have lots of information to tell about Paper Pumpkin, so please read to the end.
My June Kit
I just put together my June kit and took photos so you could see what I did with the extra pieces.  Instead of making 9 cards, I was able to make 14!!!  This was a very "sweet" kit filled with donuts!  Each kit always has extra pieces and the stamps & inks are indefinitely re-usable.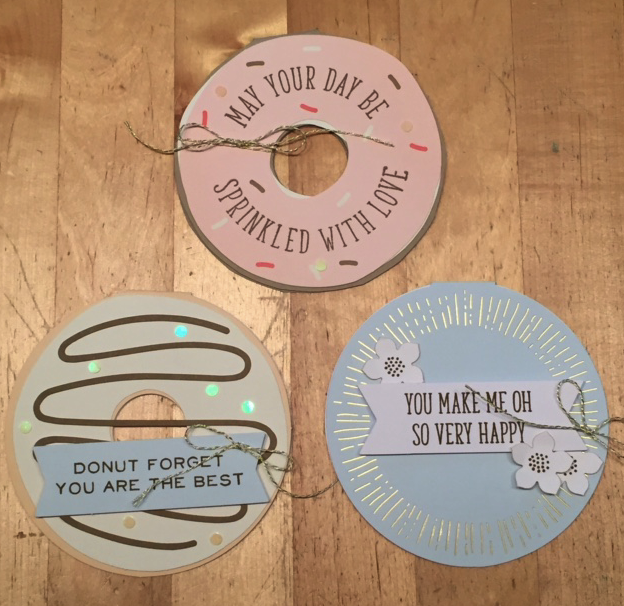 These were the three designs in the kit.  I just made them as designed because I wanted to mail them out right away.  Directions are included as well as one minute YouTube videos.
Facebook Paper Pumpkin Fan Club
Did you know there is a Paper Pumpkin Fan Club Facebook Page with over 11,000 followers?  Be sure to become a fan yourself and see all the creative ways people put their kits together – you do not have to follow the directions that come with the kits, come up with your own design or copy someone else's.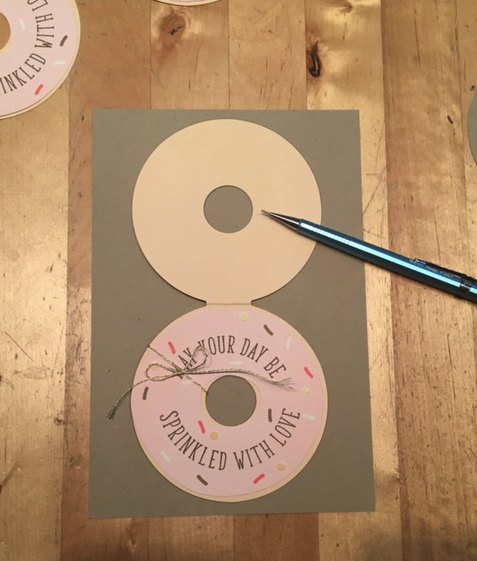 The kit came with 9 envelopes, but 14 donut frosted fronts.  I decided to trace and cut one of the donut shaped bases onto crumb cake card stock.  This gave me me more bases.  It also allows me to use the donut-themed stamps for future cards too.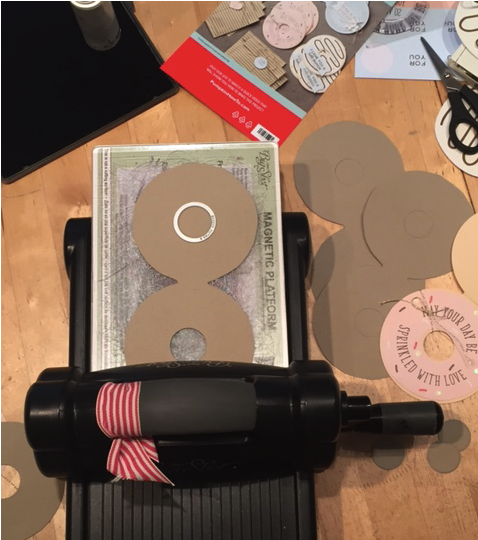 I used my Big Shot and Layering Circles dies to cut the donut hole.  If you don't have a Big Shot, you can leave the hole solid.  Some donuts come that way.  You really should get a Big Shot, it's something I use almost every day.   If you purchase one in July, you will earn two $5 coupons to use in August.  Whoo Hoo!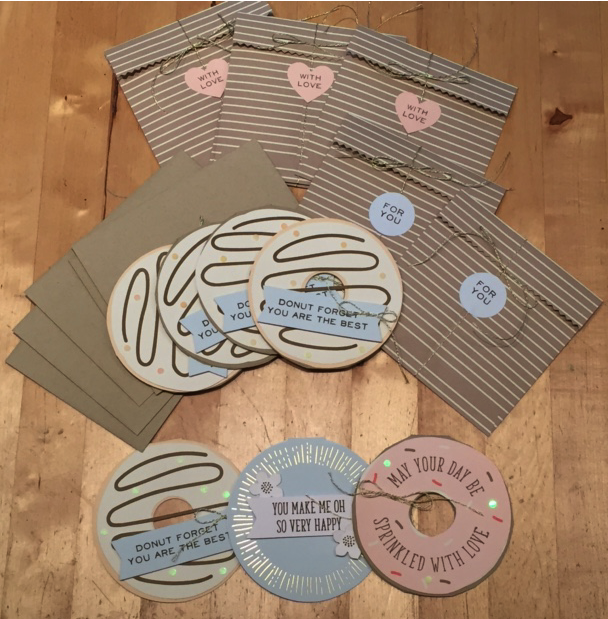 Here is a photo of my Baker's dozen donuts.  I did say I made 14, but my daughter gave one away at a friend's birthday party.  I used some of my retired crumb cake envelopes for my extra donuts, so they all had a pouch.  They are so "sweet"!
Paper Pumpkin $5 sale – July 17 Only!!!
One day only!  On July 17, Paper Pumpkin is going to be on sale for $5 for all new subscribers!!!  Everyone who has never received Paper Pumpkin before should get this sale because Paper Pumpkin is a must have!  Every month is a completely different kit, different projects, different style, but always awesome.
How do you get your first Paper Pumpkin kit for $5?  All you need to do is subscribe on July 17 and use the promo code ONEDAY0717 and your August kit will be $5.  All future kits will resume to the regular price of $19.95 (shipping included).  There is no time commitment, so you can get the kits for as long as you want, skip some months or cancel at any time.  $5 is less than a fancy coffee!
Click HERE to subscribe.  How can you not for only $5????
Photos of the Past Year's Kits