In April I will be traveling to Salt Lake City, Utah with hundreds of other Stampin' Up! Demonstrators for the first ever North American OnStage Live event.  I was there a few years ago for Stampin' Up!'s 25th Anniversary and I can't wait to return and see what they have in store for us.  I promise to share everything I learn and see with you after I return.
Stampin' Up! has offered attending participants to apply to be an event display stamper and I am jumping up & down and raising both my hands high for them to pick me.  I need to showcase 3 cards, 2-3D projects and a scrapbook page.  Below are samples designed by me as a means of my application.  I hope you enjoy them!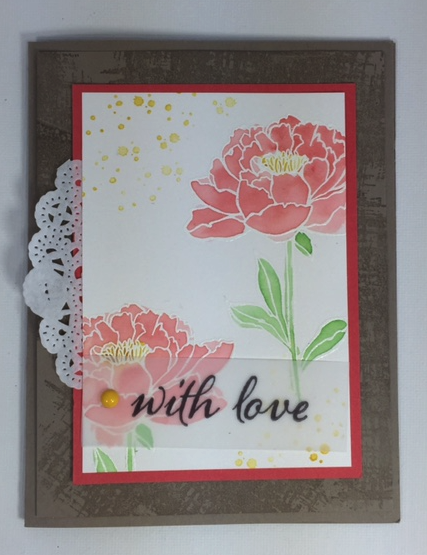 We made this card for Valentines Day and everyone in class loved it.  The stamp sets are: You've Got This, Timeless Textures and the "with love" is a Paper Pumpkin stamp.  I love the white embossed flower outline, watercoloring with aqua painters and the little touch of vellum paper.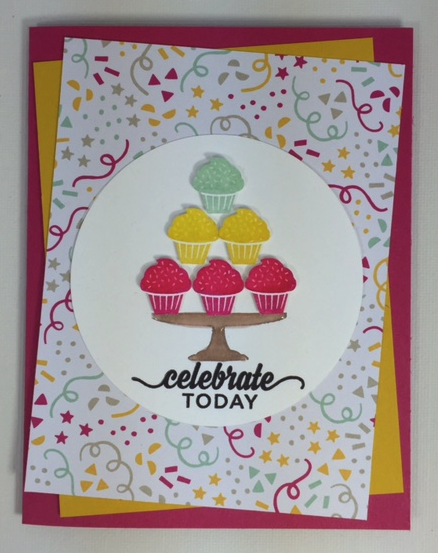 This birthday card is made with the Party Wishes and Enjoy the Little Things stamp sets.  I thought it would be fun to use the pedestal from the cake stamp and stack all those cute cupcakes on top.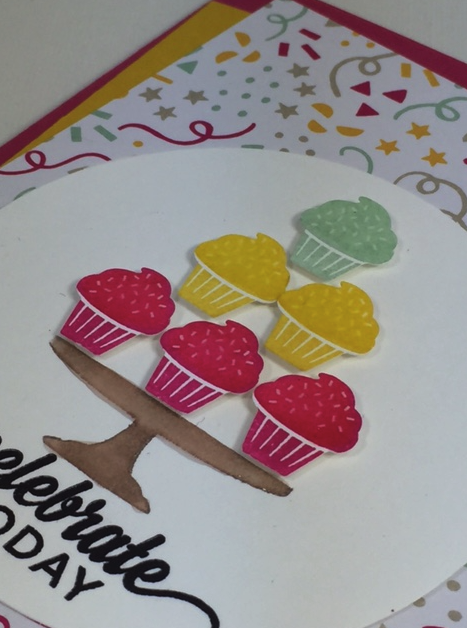 Can you see the shiny frosting and pedestal?  I used Crystal Effects to highlight them and make them pop.  It's a bit hard to get the shininess in a photograph, but trust me, it looks just perfect in person.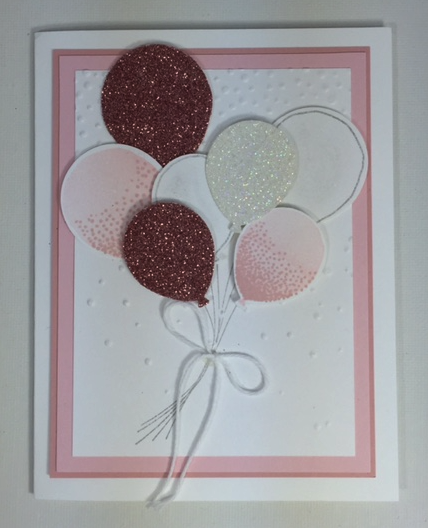 I made this card in January when the new 2016 Occasions catalog debuted.  I posted it on Pinterest and can't believe the amount of re-pins it has received.  What is great about this card (besides all the sparkle) is it can be used as a birthday, baby or good luck card.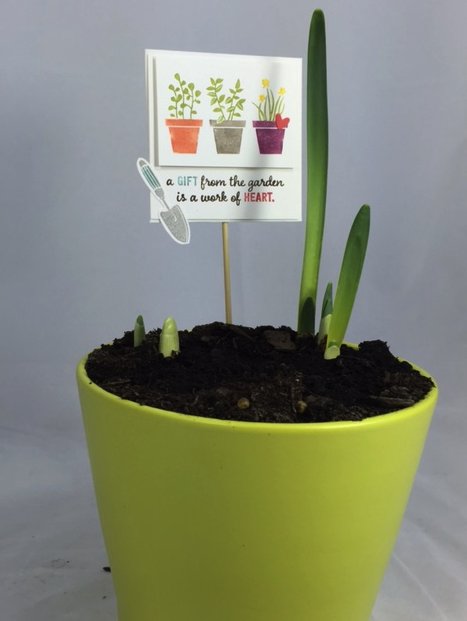 I made several of these potted gifts for Christmas and the daffodils are just now starting to grow.  That must mean Spring is on it's way!  Yay!!!!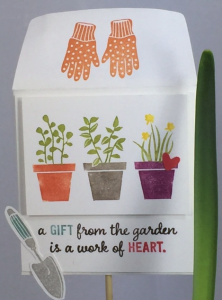 The tag serves a dual purpose – for creative decoration and to provide growing instructions. I used the mini envelopes to hold the growing instructions.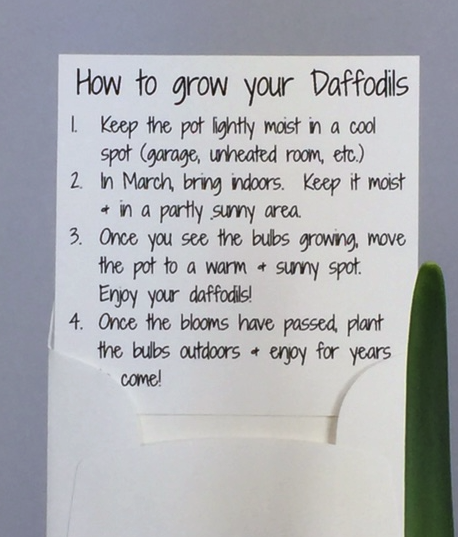 I just love it when I can combine my two loves – paper crafting & gardening.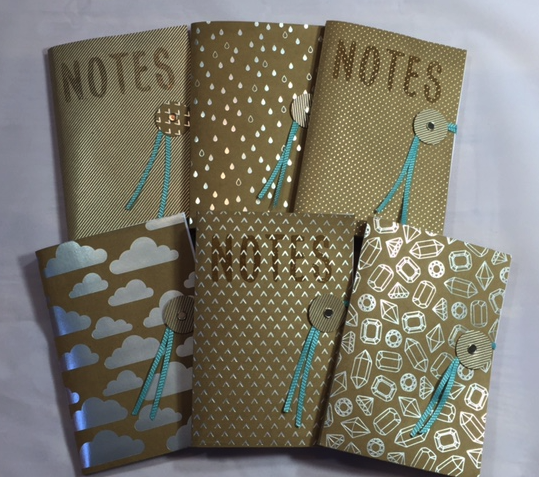 This Shine On Specialty Designer Series Paper is spectacular and I couldn't wait to use it for my pocketbook notebooks.  Not only is it shiny, beautiful and double-sided, but it is sturdy and great to work with.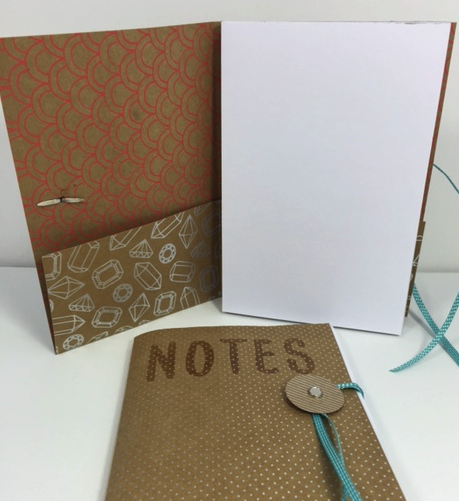 I used some clear embossing powder to stamp "notes" which worked beautifully over the metallic patterns.  I think a monogramed name would be striking too.  I love the Bermuda Bay stitched ribbon, just the right thickness to wrap around the enclosure.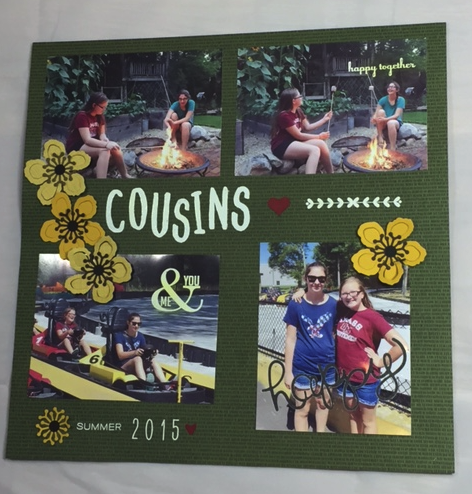 I have been a Stampin' Up! demonstrator for 9 years now and this is my first scrapbook page!  I didn't want to be influenced by anyone's designs or layouts, so I just went for it.  I grew giant sunflowers this summer in my raised beds (can you see them?) and used them as an inspiration for the yellow paper flowers.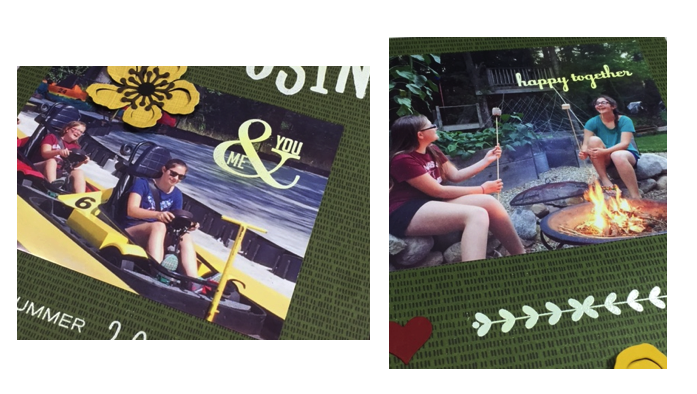 I tried something new to me with the photographs, I embossed on them!  The Me & You and happy together are embossed with white embossing powder, but the heat and photograph paper gave them a yellow tint.  I think the yellowing works well with my color scheme of yellow flowers, camp fire and go karts.  The remaining stamping was also done with white embossing powder.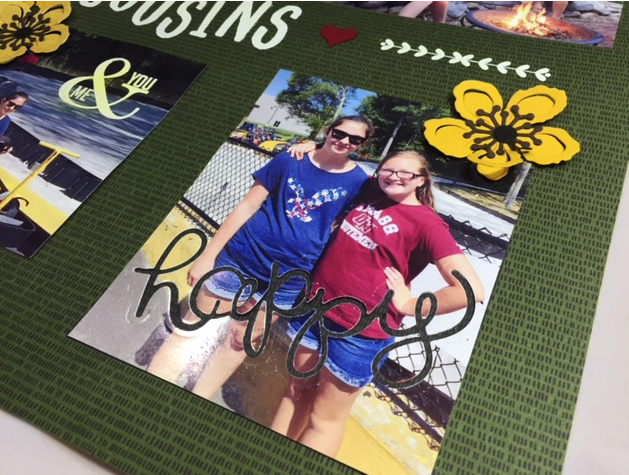 I cut the "happy" out of the photograph with my Hello You Thinlits and placed back the little bits inside the letters with my fine tip glue and handy tweezers.
Thank you for looking at my creations.  I would be honored if you chose me to be one of your event display board stampers.  I am looking forward to April and being at OnStage with everyone!