Everything about Stampin' Up!'s OnStage events is awesome.  Being with like-minded people, watching presentations that include new techniques and new products, absorbing all the positive energy, meeting people from all around the world, and seeing everyone's creativity because we love & appreciate creativity.  The next OnStage local event will be in April 2018.  The location that is closest to me is in Hartford CT.  I'm thrilled with this location, as it's only 2 hours away.  I hope that many of my team will join me and get to experience the awesomeness of a Stampin' Up! event.
I have been lucky to be chosen twice before as an OnStage Display Board Stamper (in Baltimore and New Jersey) and am applying again, in hopes that I will be chosen for Hartford.  It is truly a great and challenging experience to create designs for fellow demonstrators.
To apply, I need to post original designs: 3 cards, 2 3-D items and a scrapbook page.  Here are my designs and thus my application: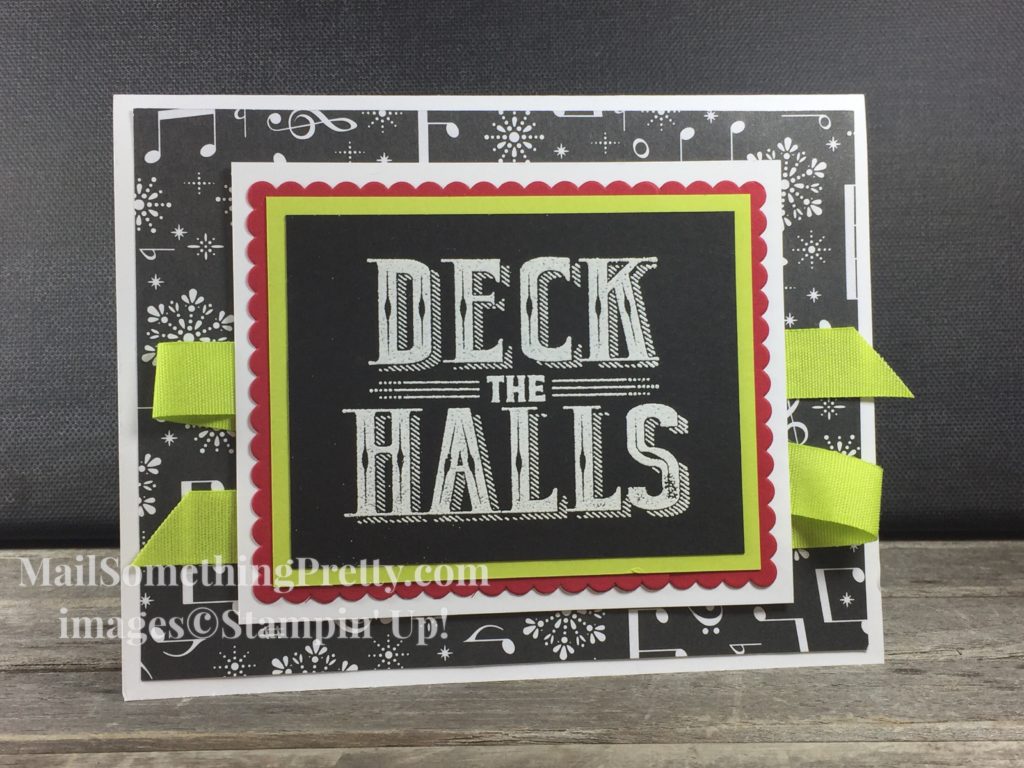 I just love the contrast of the black & white with the bright Lemon Lime Twist and Real Red.  A hint on how I made the rectangular red scallop background piece:  I used two square scallops and lined them up – you can't even see the overlap.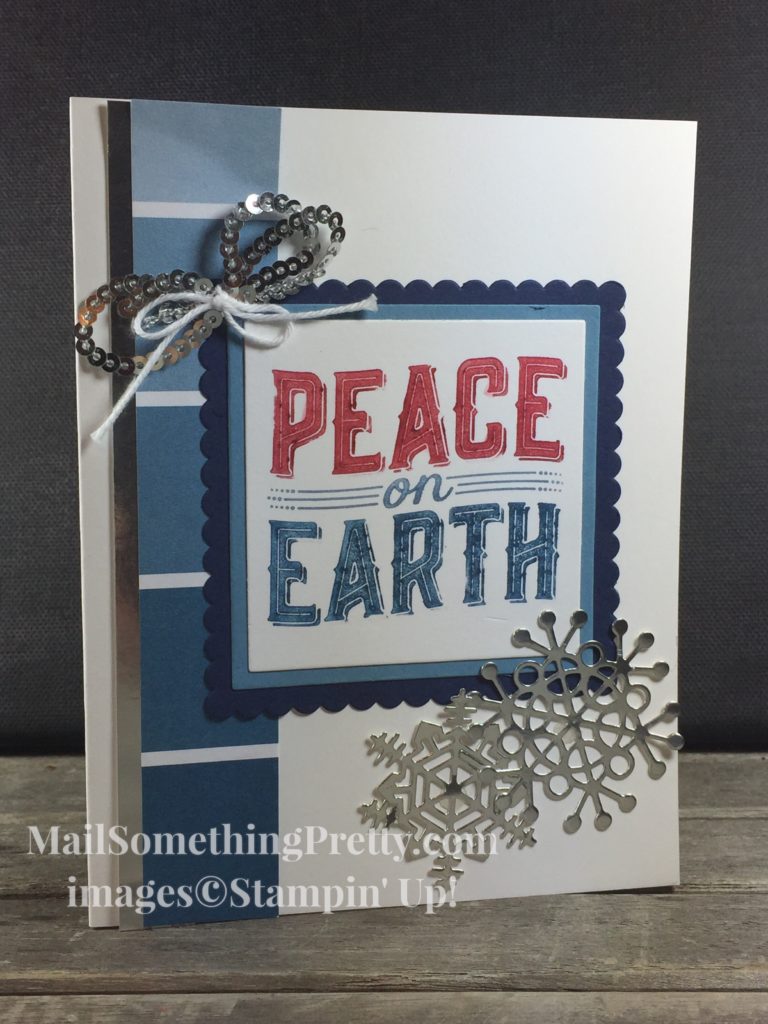 This card uses the same stamp set as the above card, Carols of Christmas, but has a completely different look because I used my Stampin' Write markers to color the individual words.  The real red Peace gives a great pop against the ombre blues and silver foil paper.  I think this is a great card to send anyone, no matter what Holiday they celebrate.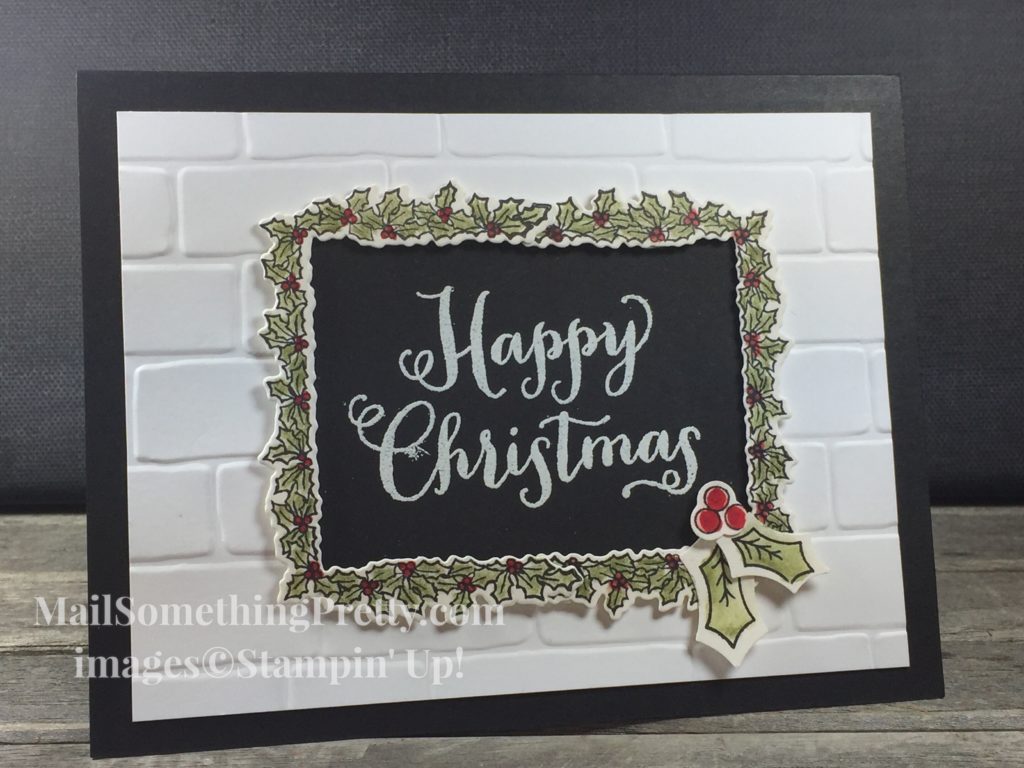 This year's trend is black & white so I found that I was influenced by it.  This card has a softer feel than the bright one above.  I love the chalkboard look, don't you?  The surrounding holly garland is from one of my favorite sets, At Home with You, just turned on it's side (it's supposed to drape over the front door from the set).  I actually made this card for my Christmas in July class, and you can read a little more details from this post: http://mailsomethingpretty.com/christmas-in-july-featuring-at-home-with-you/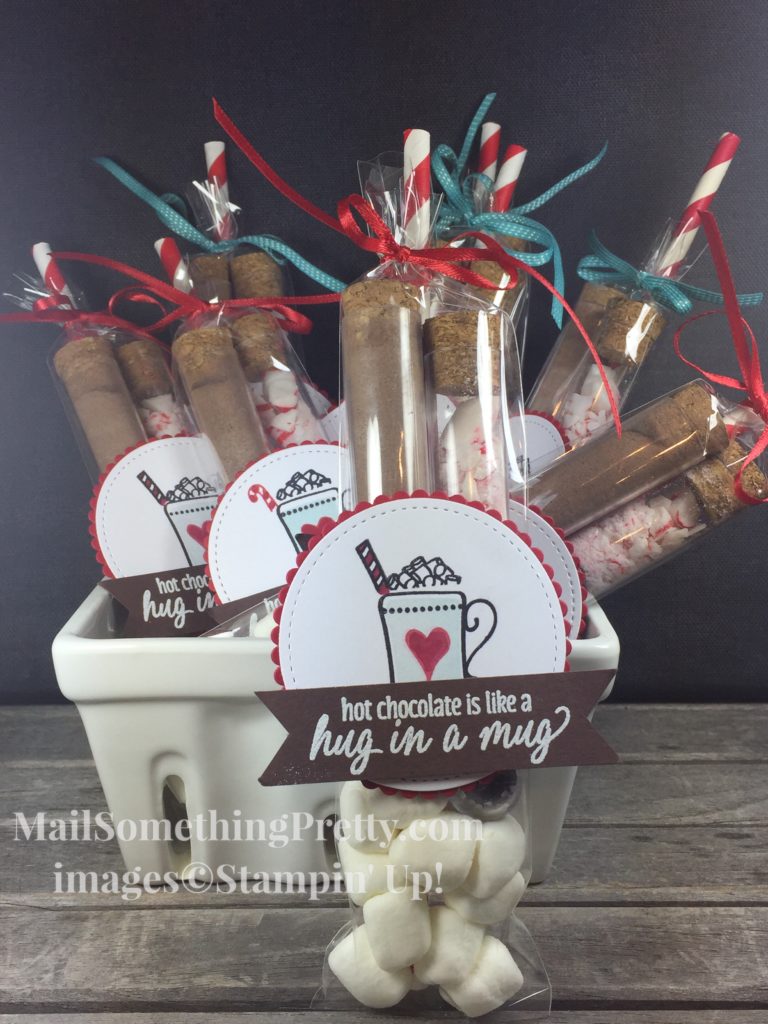 These treat tube cocoa gifts are the cutest gift to give and receive!  My daughter loves to concoct things in the kitchen and I had her in mind when designing them.  Inside one tube is cocoa mix and in the other is crushed candy cane and mini chocolate chips.  At the bottom of the bag are mini marshmallows and a stirring straw.  Just imagine the fun of making your own cup of hot cocoa on a cold snowy day.  I think the sentiment is absolutely right on "hug in a mug" which bears the same name as the stamp set I used.  These treat tubes are retiring, so if you want them you should order them soon!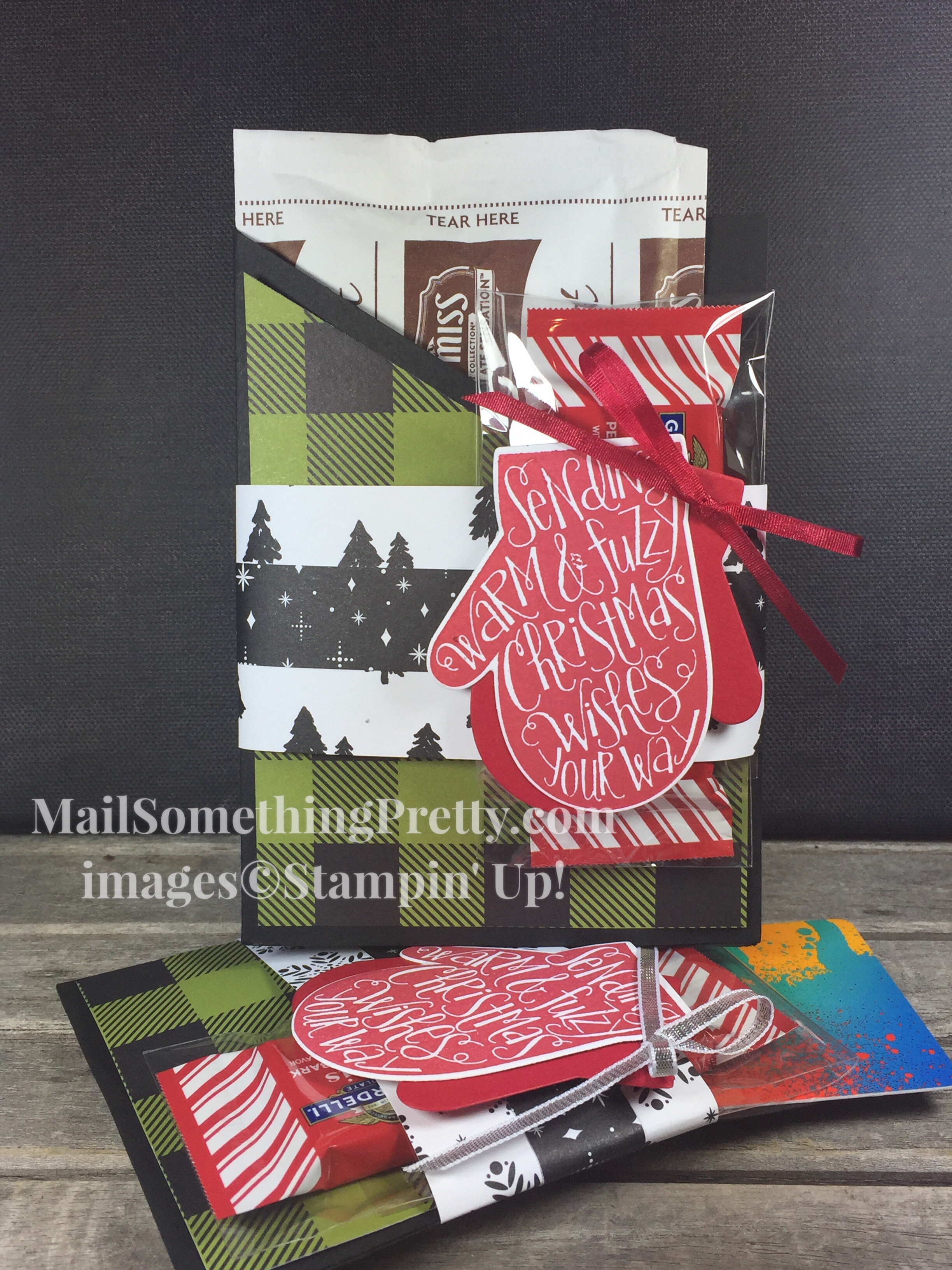 These cocoa packs are decorated in the latest plaid craze.  I made a pocket with card stock and slipped in a package of cocoa mix.  Inserted underneath the belly band are two Mini Ghirardelli peppermint barks (my favorite flavor).  The 2 x 8″ cellophane bags are the perfect size for these chocolates (and the treat tubes above).  Use this a gift all by itself, or slip in a gift card with the cocoa as an extra special gift.

For my scrapbook page entry, I decided to include a few pages from a Memory Keeping album I have been making my niece Fiona for the past 3 years.  I'm going to give her the album for Christmas this year.  I watched her after school on Fridays (we named them Fiona Fridays) and tried to take photographs of some of the different things we did, even if it was just having a cup of tea.  Her scheduled changed this year so I wasn't needed, and now Fridays seem a bit empty without her.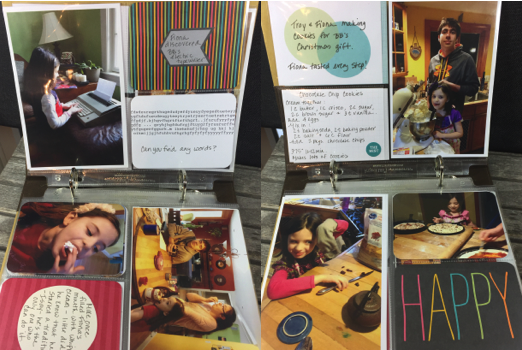 The design work isn't crazy spectacular because I wanted the photographs to be the star.  The purpose of this memory book (and all memory books should be) is to preserve some of our memories together.  The pre-designed cards (from Memories & More) make it super easy to add color, creativity, graphics and journaling.  All you need to do is insert the cards in the pockets and you have instant gratification.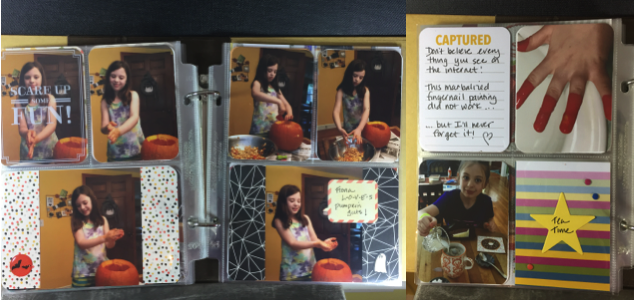 As you can see, we had some fun times together and a lot of them were having cups of tea and baking in the kitchen.
Thank you for taking a look at my entry and I look forward to hearing from the Display Board committee.