I went to a baby shower today and haven't been to one in a long time.  Who doesn't love babies??  The powdery smell, cute gurgling noises, soft skin, pudgy cheeks, oh my!  This shower was for a baby boy and had a travel theme.  The invitation was super cute and looked just like an airplane ticket/boarding pass. I decided to wrap my gift to make it look like luggage (I got wind that there would be a luggage area a.k.a. gift area).  I don't always have the extra time to wrap a gift with the love & care it deserves, but was very happy I did for this one because I am so pleased with the results.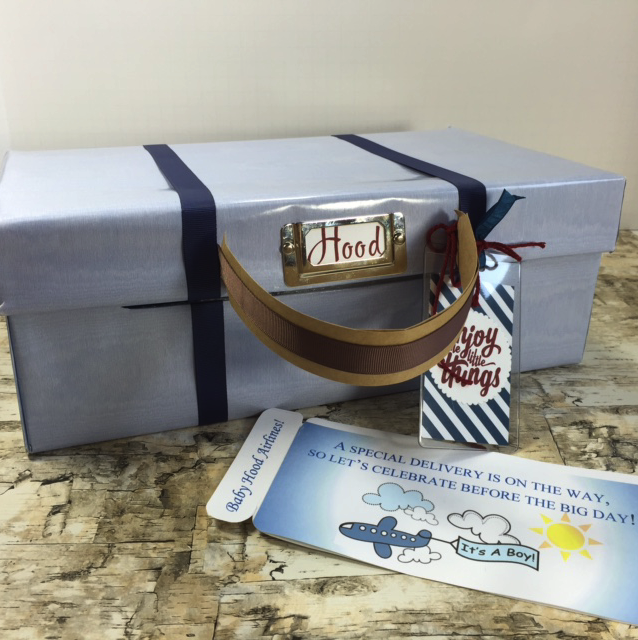 I found everything I needed (except the blue wrapping paper) to create my suitcase from around the house.  This is really a Nike shoebox in disguise.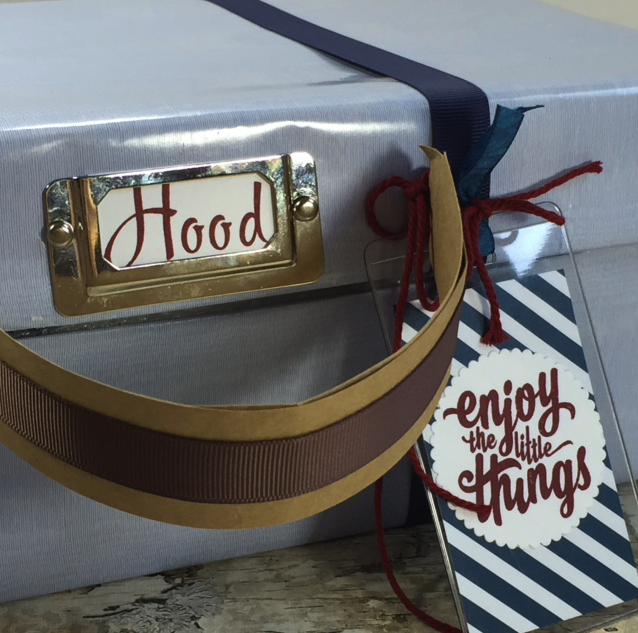 The baby's last name will be Hood, which fit perfectly in this label slot I took off an old card storage box.  I used the new Brushwork Alphabet photopolymer stamp set to create the name tag.  The "luggage tag" was made with the new Dapper Denim printed DSP from the In Color DSP Stacks.  The "enjoy the little things" is from a retired stamp set, but stamped in Cherry Cobbler.  The handle is made with a double layer of Kraft cardstock and retired chocolate chip grosgrain ribbon (the suit case is also outlined in retired Night of Navy grosgrain ribbon).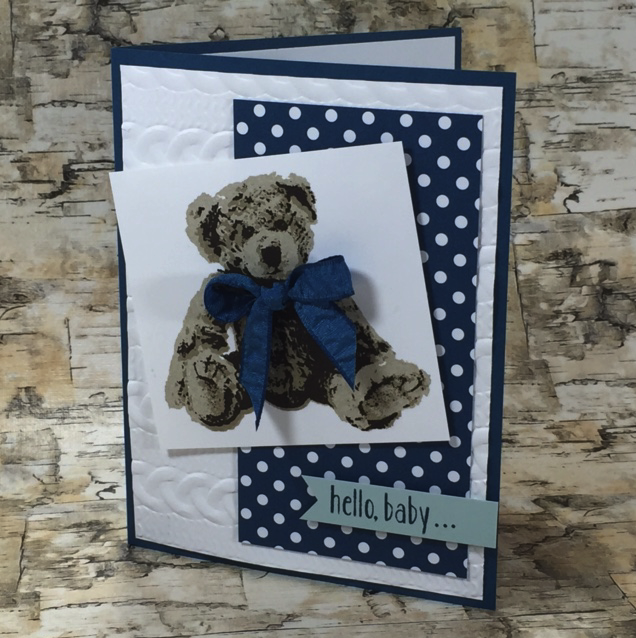 This adorable baby card was made with the amazing Baby Bear stamp set – the bear is triple stamped and looks like a photograph.  It's a little hard to see in this photograph, but I embossed the white background with the new Cable Knit Dynamic Textured Impressions Folder.  As a retired knitter, I am so happy to have this texture.  Here's a tip using that folder – only use one standard cutting pad because the folder is extra thick.   The dark blue is the Dapper Denim and coordinates with the luggage tag from the box.   The card, luggage and gift inside were a big hit with the mom-to-be.