Have you seen Oprah's "Just Say Hello" campaign?
http://www.oprah.com/health/Just-Say-Hello-Fight-Loneliness
There's no better and easier way to say hello to someone than to send them a card. It's rare to receive a nice card in the mail these days, and it is certain to brighten their day. A hand-made card will put an even bigger smile on their face.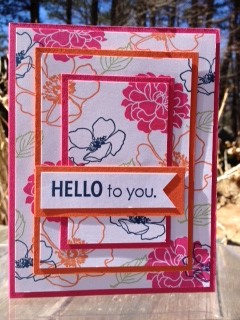 We will be making this particular card at my upcoming Stamp Camp on April 27, 2-5pm.
Would you like to join us?