Every month, my team of Stampin' Up! demonstrators (we call ourselves "Wicked Stampahs") get together for a creative meeting.  Last night, 8 of us were able to get together and chat, stamp, share, inspire, eat, relax and enjoy what we love about Stampin' Up!.  We all joined Stampin' Up! for different reasons and have different backgrounds.  This is what makes us a fun & unique group (about half of us made the meeting).  Everyone is welcome to join us.  Consider joining Stampin' Up! and our team of Wicked Stampahs, I promise you won't regret it.  We all made cards/projects to swap with each other – another way of inspiring and teaching each other creativity.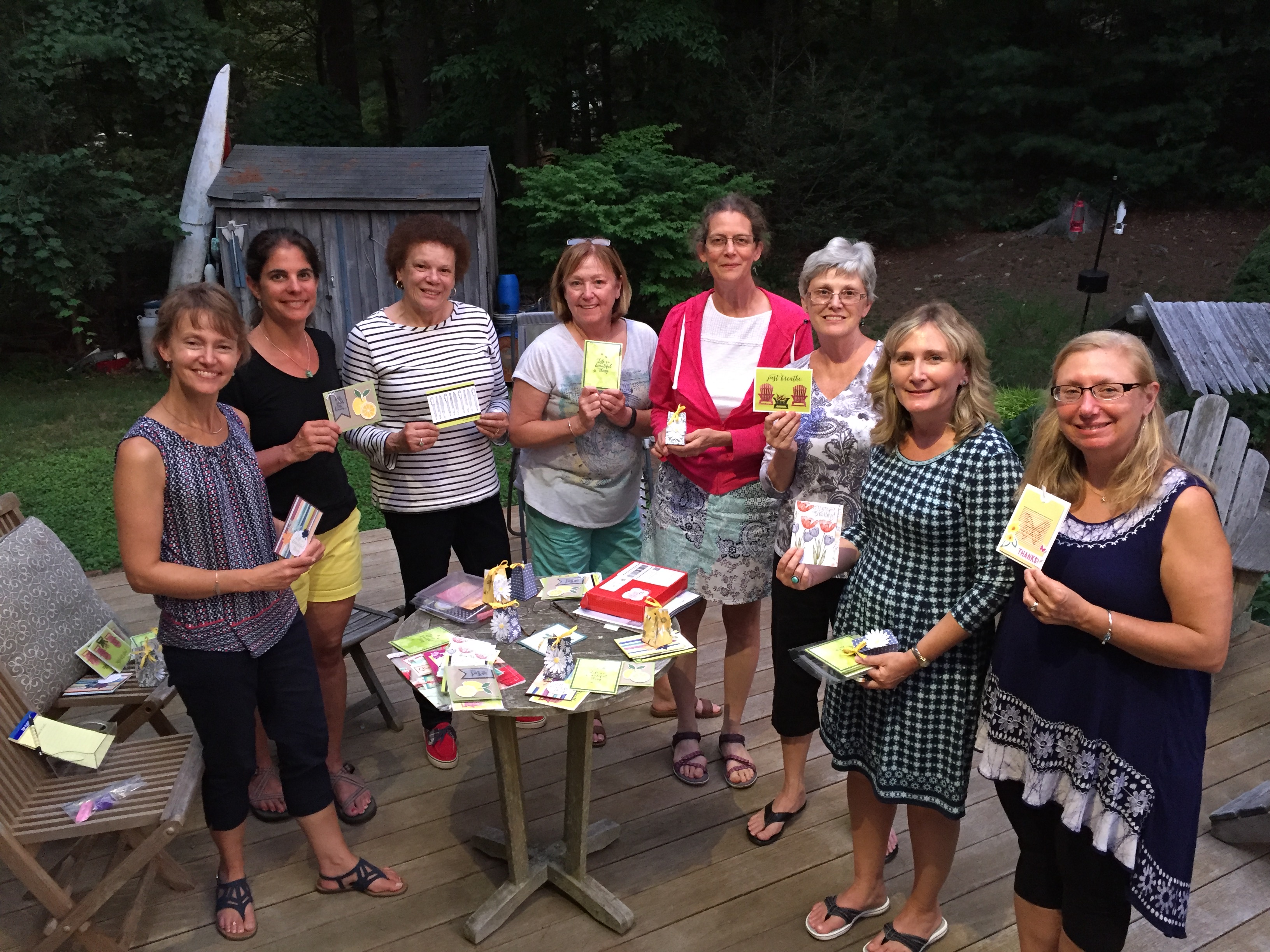 Here we are all holding the cards/treats we made.   Swapping is a great way of having examples of cards/projects to show to friends and customers without having to buy everything in the catalog (although, many times after swapping we place orders to get those products – ha ha).  Later in the post, I'll show you close ups of the projects we made.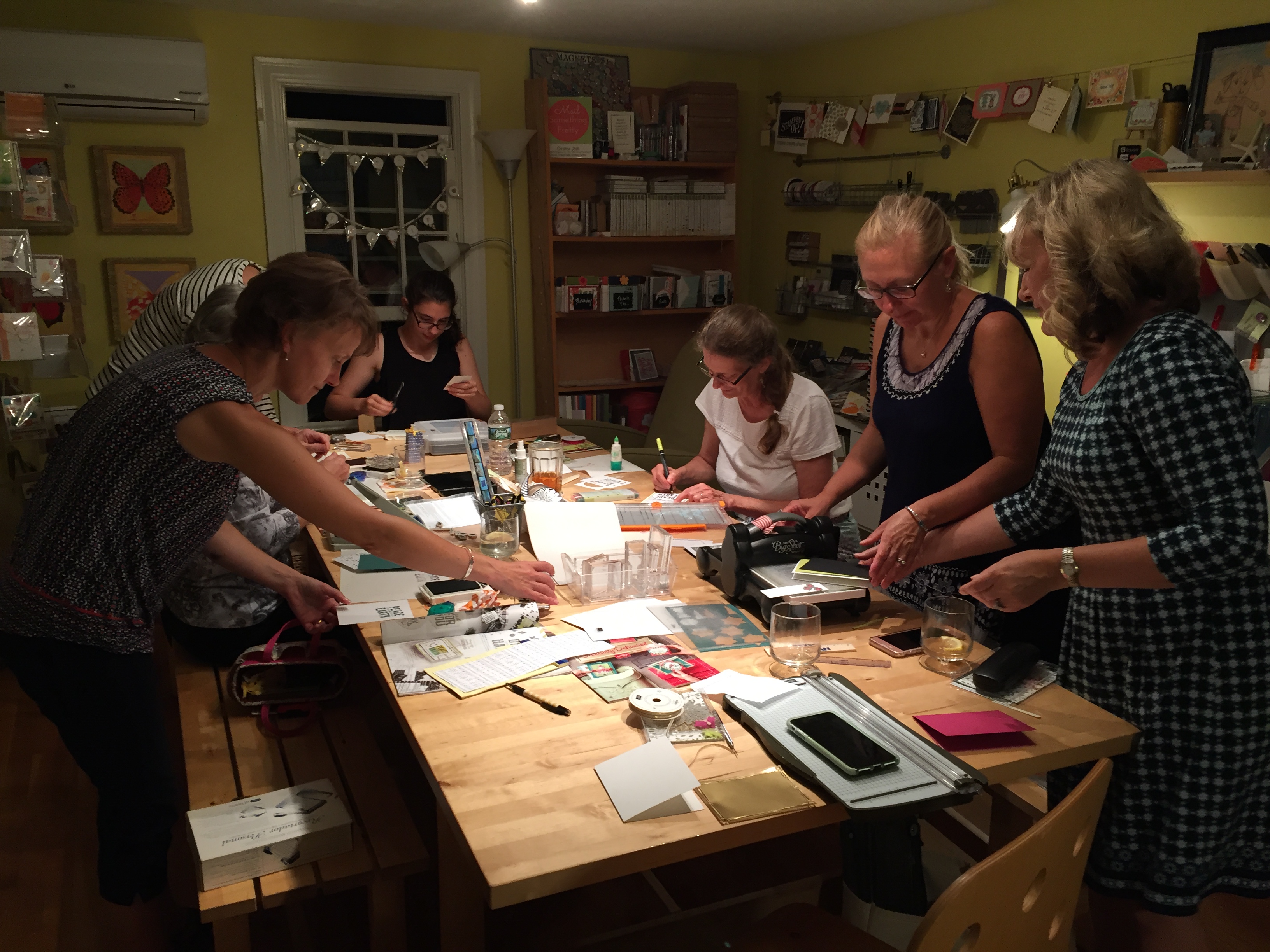 We, along with my teenaged daughter, are creating a card using the newly released Carols of Christmas bundle.  I challenged them to come up with a design on their own (do you see those phones on the table??  Some wanted to consult Pinterest instead of coming up with their own design – which of course is perfectly okay).  This is what we came up with with 30 minutes time: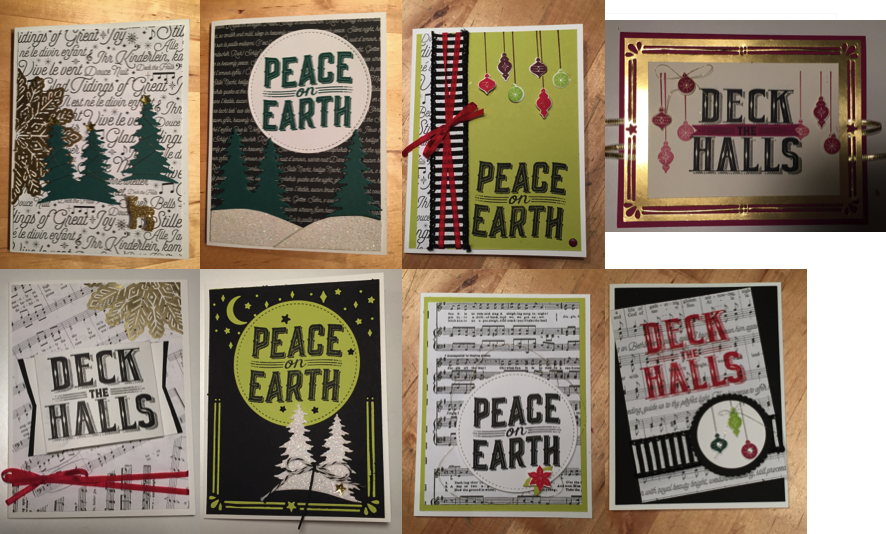 A few other new products we used with the Carols of Christmas bundle, were the new Merry Music Specialty Designer Series paper (this music paper makes great background paper) and new ribbons.  Would you like a new Holiday catalog?  Just let me know!  It's amazing!!!!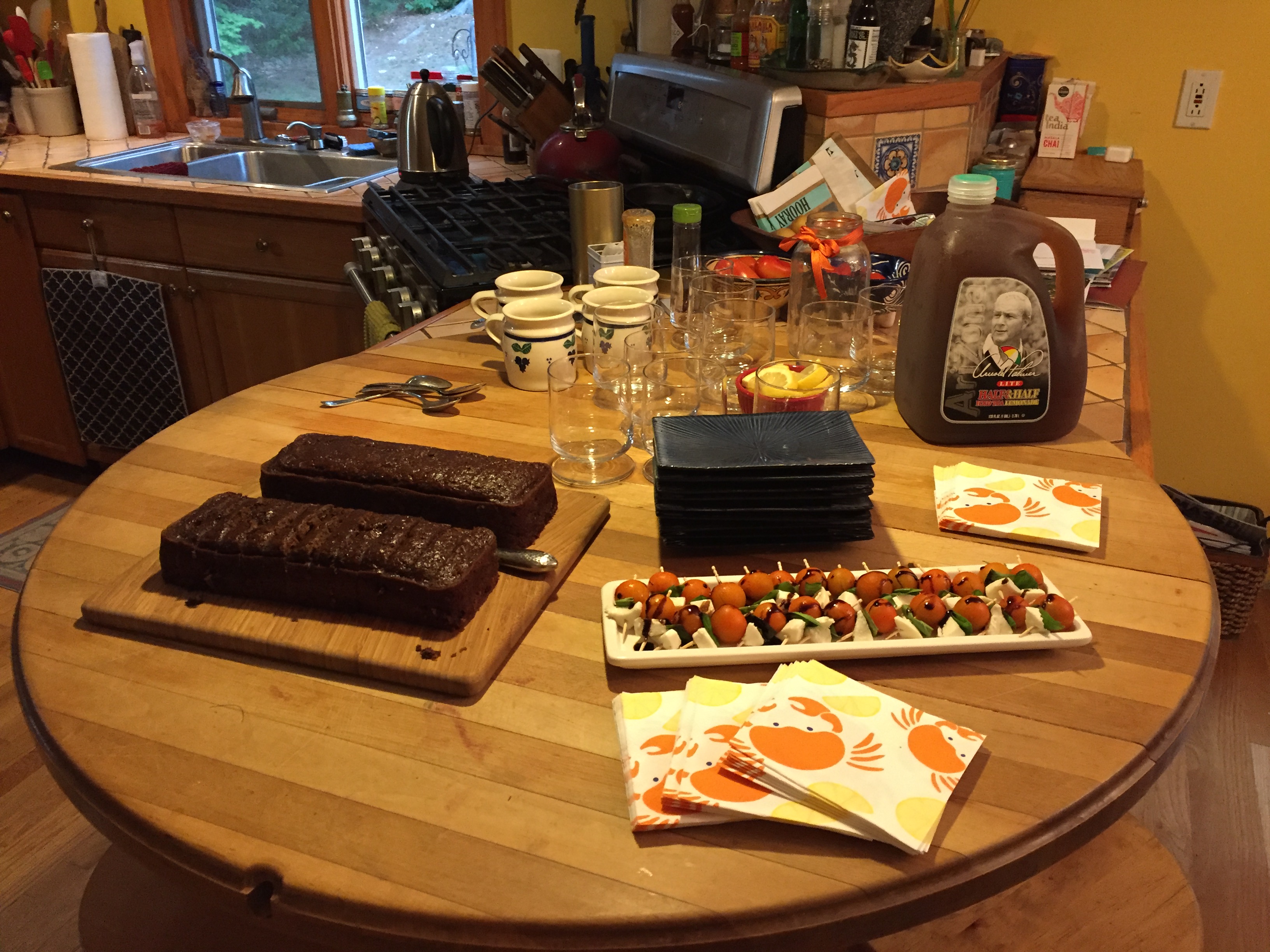 Of course, we needed some nourishment for all our hard work!  A little bounty from my garden:  tomato, basil & mozzarella sticks and chocolate zucchini bread – yum!
Ready to see the swaps we made for each other?  Here you go: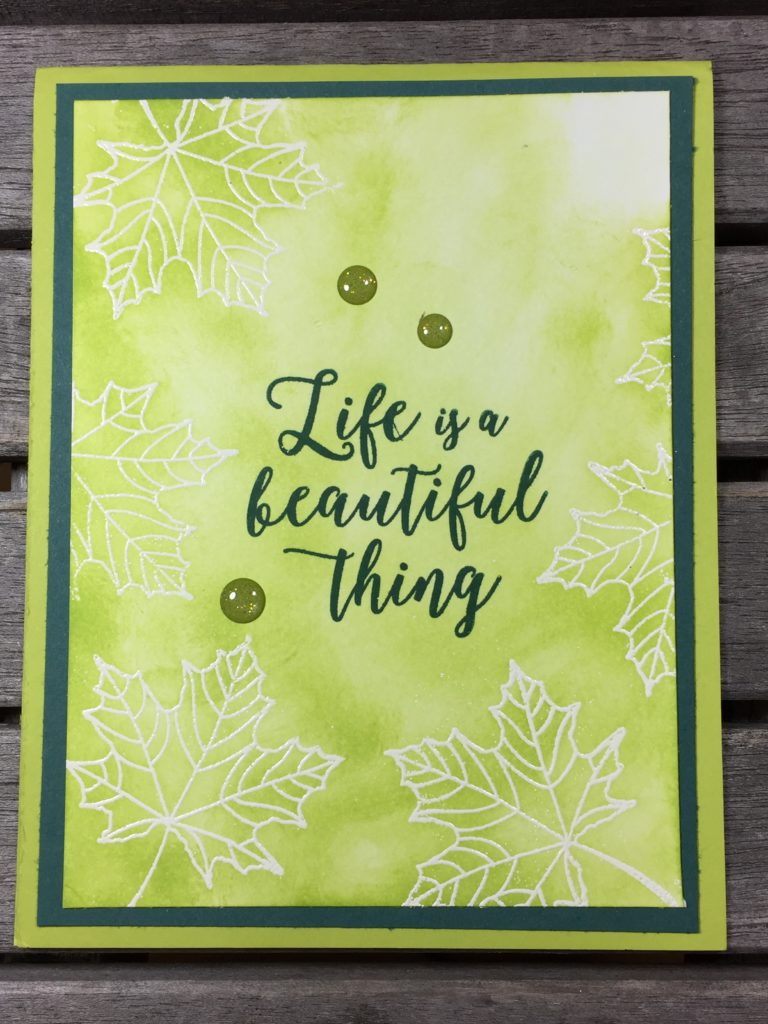 Carol D sponged her background using lemon lime twist over her white embossed leaves.  She used the favorite Colorful Seasons stamp set.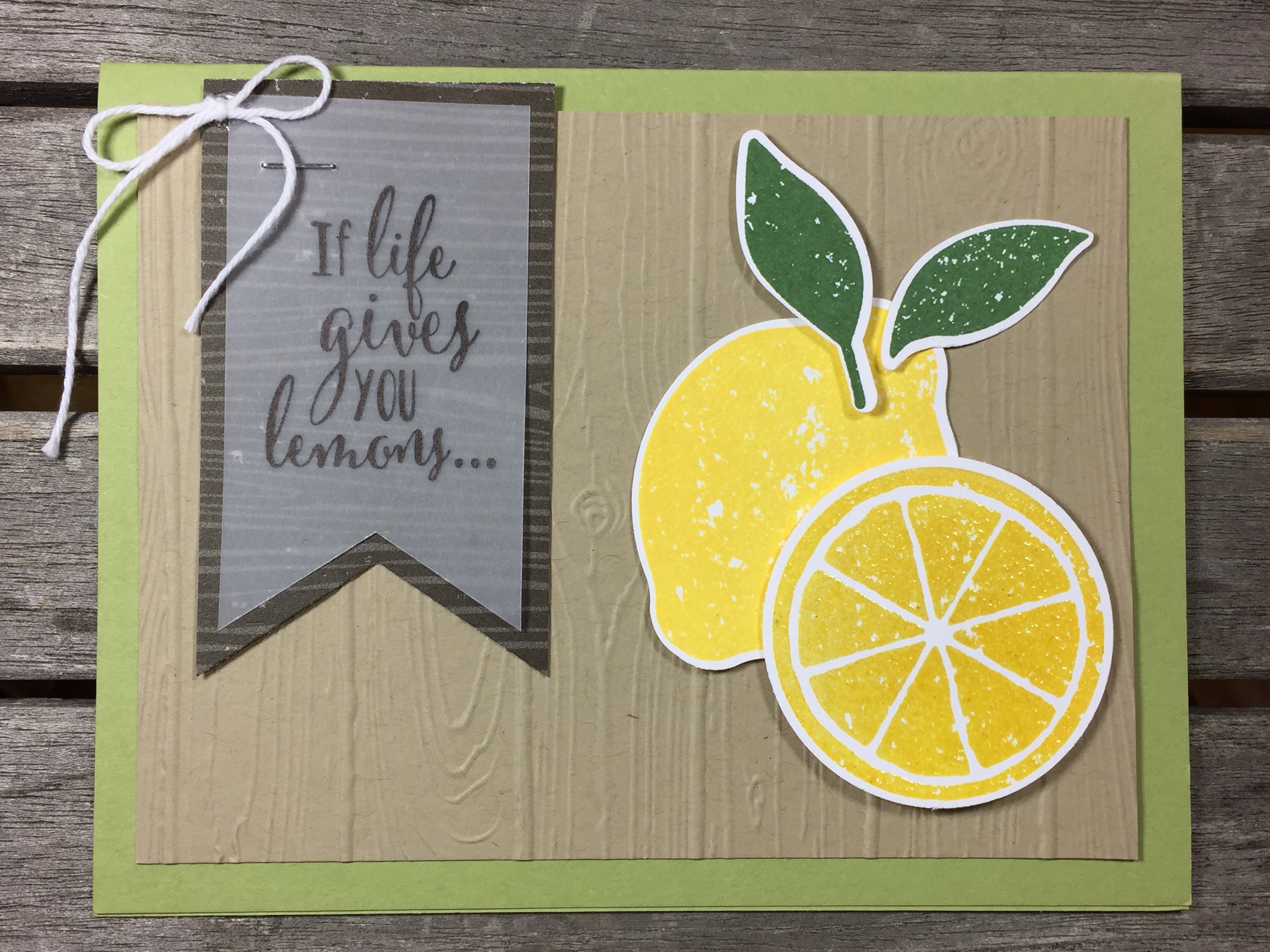 I used the Lemons Zest stamp set and coordinating Lemon Builder punch.  It's a little hard to see here, but I used clear embossing powder over the slice of lemon to make it extra juicy.  I love the sentiment on the inside "chuck them right back!"
Teresa used the very popular Crafting Forever stamp set and told us we could do our own coloring.  Just like the adult coloring book craze.  You can see that the new Lemon Lime Twist is a favorite color by many of us.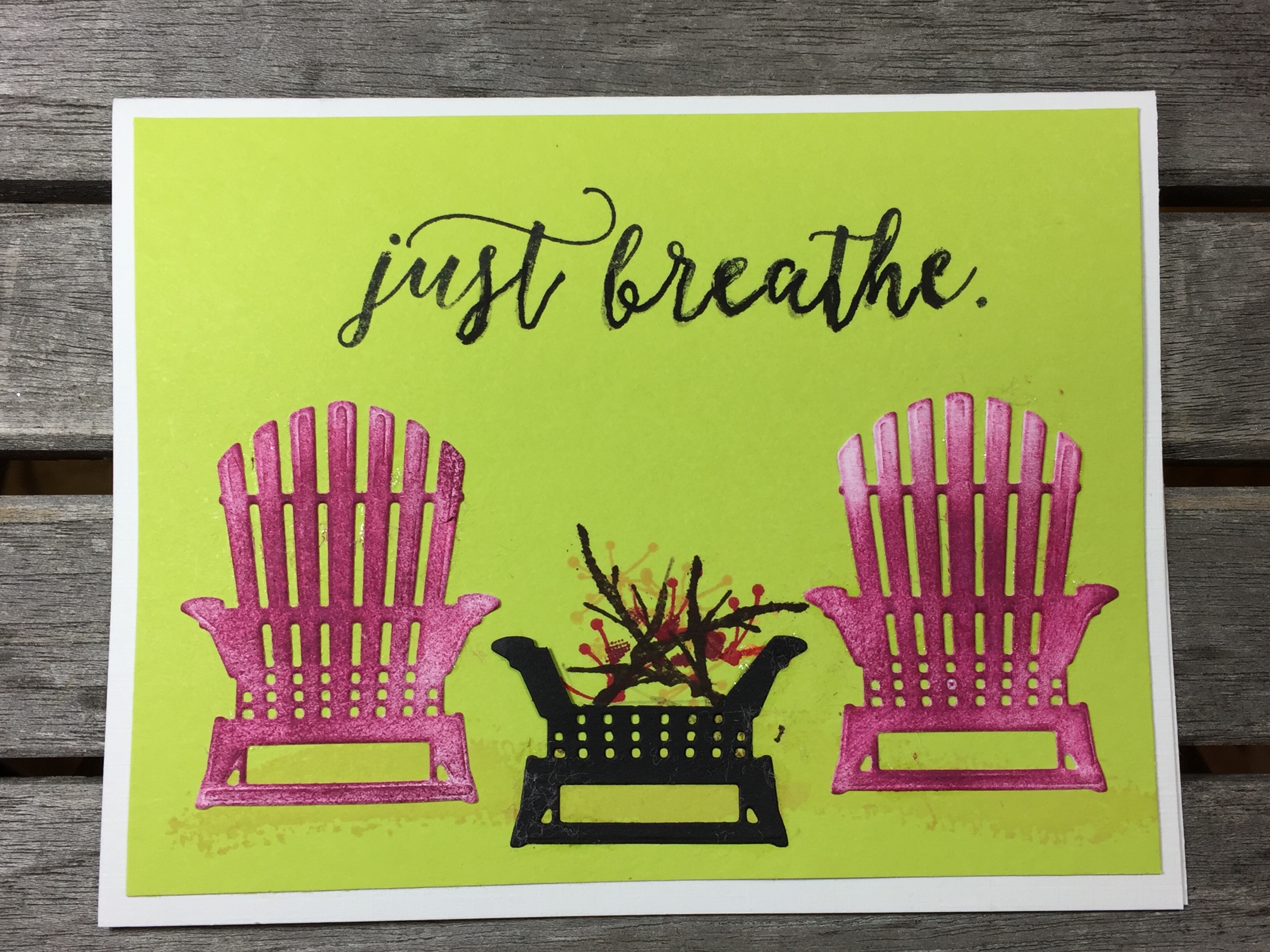 Mary Lou was so nervous about her card "not being good enough".  She was so wrong!  She came up with this fire all by herself – no help from Pinterest.  You can see that the fire ring is the bottom of the Adirondack chair and the fire and sticks were made from one of the branches and flower middles of the Colorful Season stamp set.  So clever!!!!!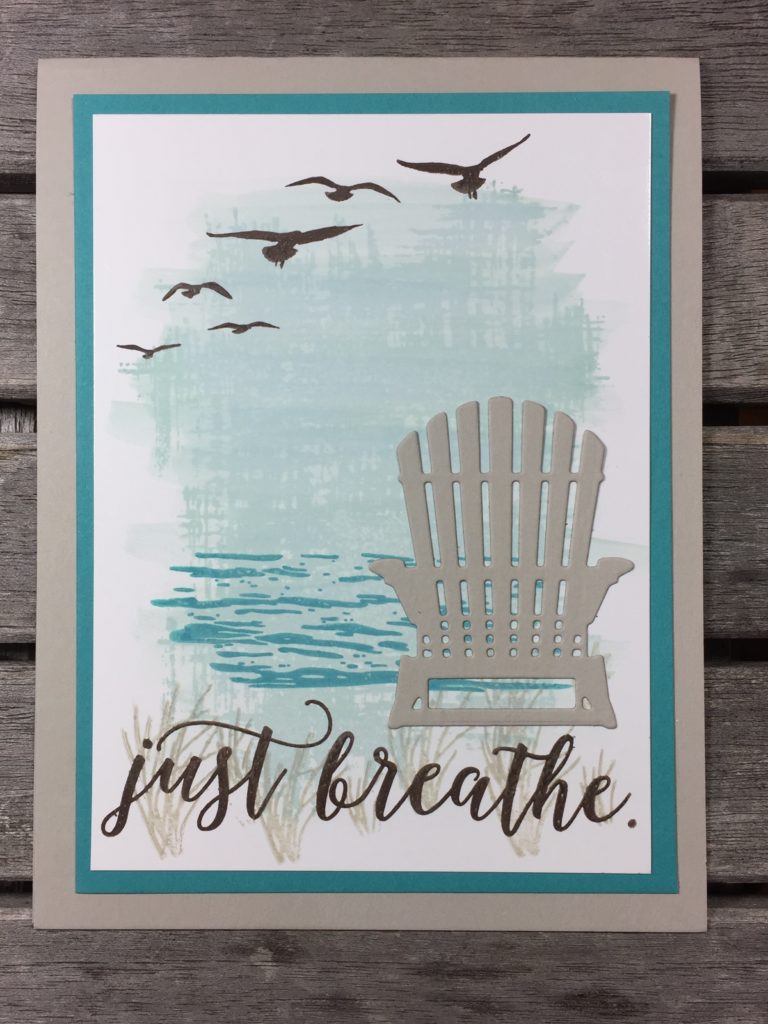 How serene is this card?  Carol M. made this beautiful combination of the High Tide set and Colorful Seasons bundle.  I just want to sit in that chair with my book!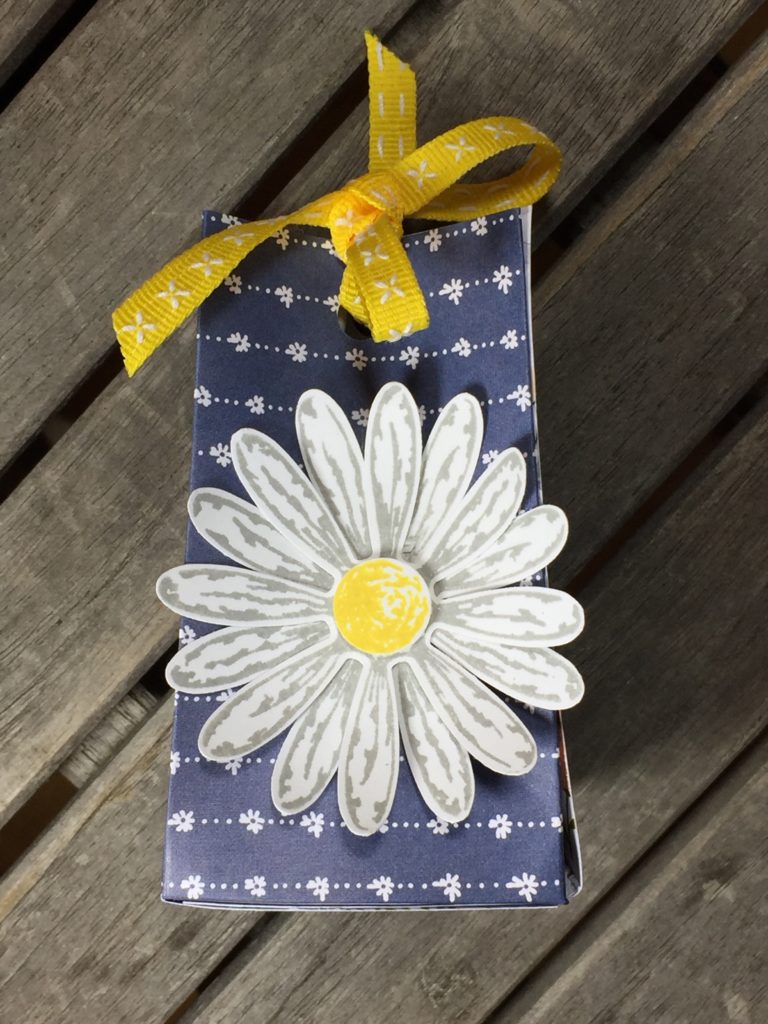 Tracy is always coming up with clever boxes and treats – and yes, she included chocolate inside each of them for us. She paired the previously sold out Daisy punch, Daisy Delight stamp set and Delightful Daisy patterned paper together for this sweet treat.  These three items are now available to purchase again too!  Yay!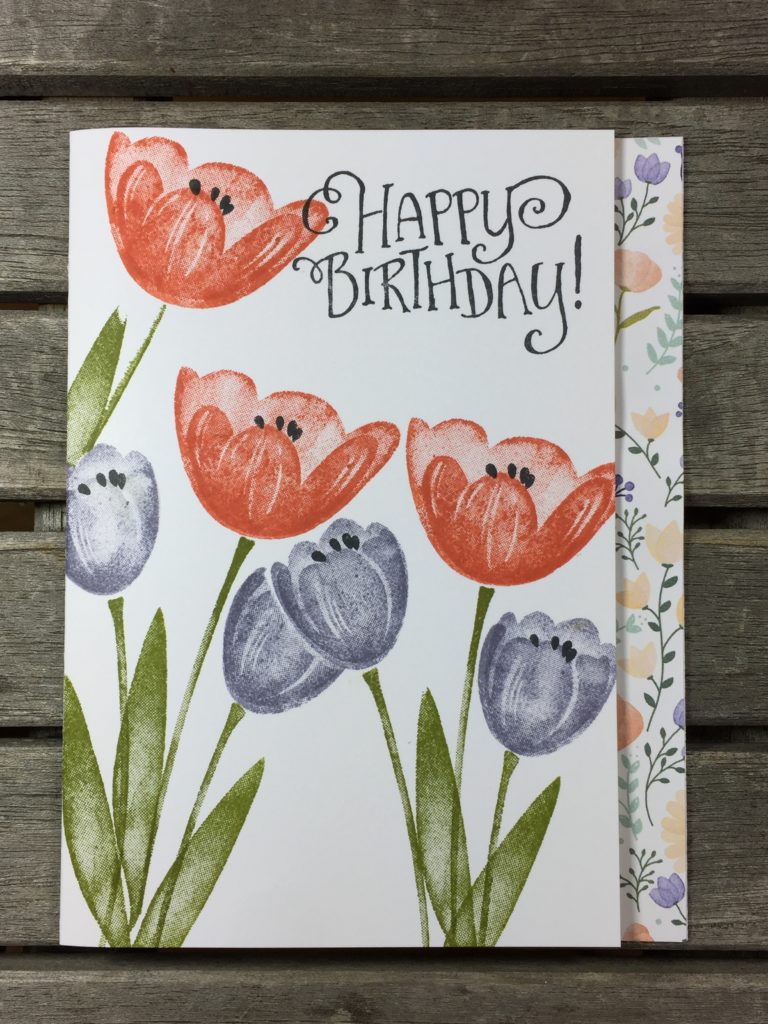 Nancy made this happy "happy birthday" card with the hostess set Tranquil Tulips.  Only hostesses are able to purchase special stamp sets at special prices.  You should consider being a hostess to earn free products and to purchase this great watercolored floral set (just let me know and we'll pick a date).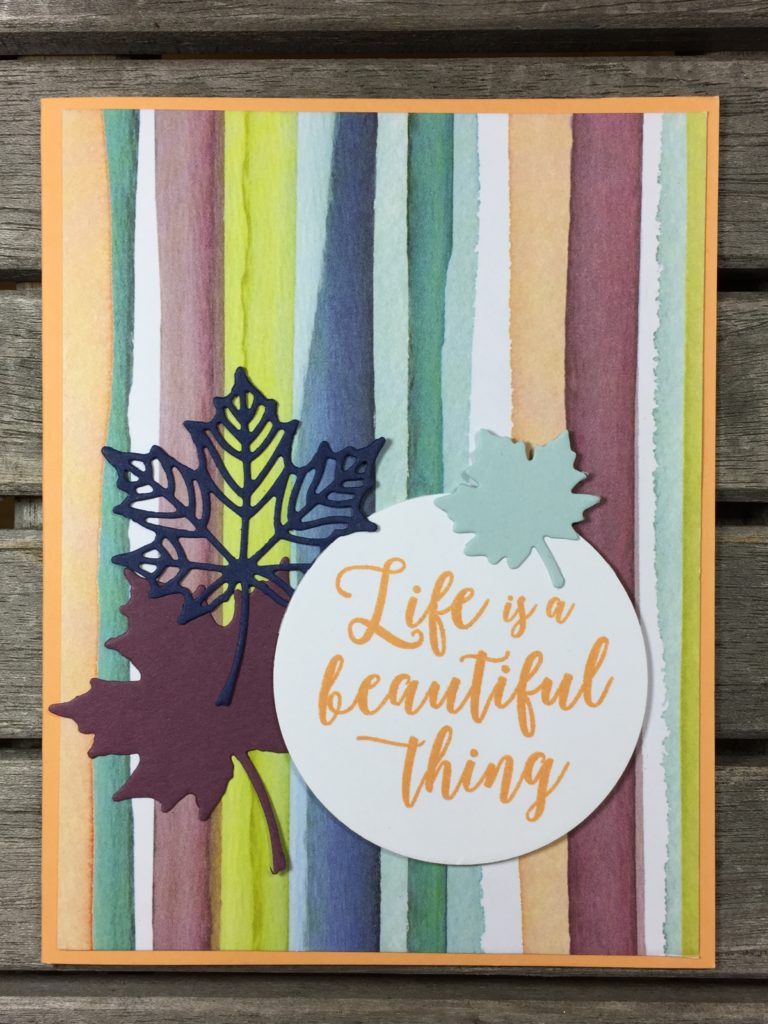 Val is the queen of using Designer Series paper.  She also used the very popular Colorful Seasons stamp set and coordinating Seasonal Layers Thinlits dies (you can tell it's an all-time favorite since 4 of us used it for our swaps).  A definite must have since you can use it all year round.
I can tell you that we had a fun evening and always love getting together.  Stampin' Up! is all about creating, sharing and inspiring and I invite you to join us.