It's not quite dragonfly weather where I live (another 3 months to go), but that doesn't mean I can't create my own dreamy dragonflies in my home studio.  I immediately fell in love with the Dragonfly Dreams stamp set and coordinating Detailed Dragonflies Framelits from the 2017 Occasions catalog, but it was winter and it didn't feel right playing with dragonflies while it was snowing.  This week's Global Design Project Challenge GDP#081 gives me the perfect excuse to play with them.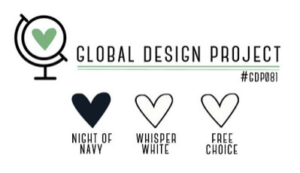 The challenge is a color challenge – to use Night of Navy, Whisper White and a color of my choice.  I am choosing to pair the Night of Navy & Whisper White with Tempting Turquoise.  What do you think?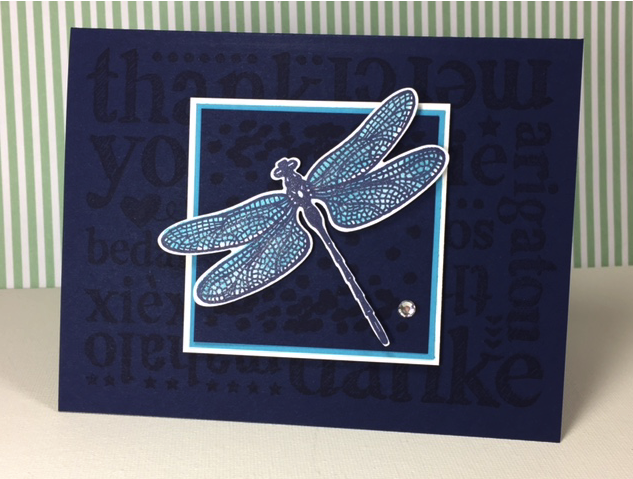 Can you just picture this dreamy dragonfly landing on your chair while you are sipping lemonade and reading a favorite book on your back deck?  That certainly sounds dreamy to me.
Details for this Dreamy Dragonfly
I find if you stamp the outline of the dragonfly first (in Night of Navy), then stamp the inner wing color (Tempting Turquoise) you can align it better.  I actually stamped off the turquoise so the wings have a lighter color.  Stamping off is when you ink your stamp, stamp it on scrap paper and then stamp it on your good card stock.
The little polka dots are a stamp within the set that I stamped on the bottom and then turned the paper around and stamped on the top (creating a mirror image).  This piece of navy is 2 1/2″ x 2 1/2″.  I used an 1/8″ increase for each the white and turquoise layers.
The background stamp is all one stamp and is called A World of Thanks.  It's a stamp that gets forgotten on my shelf, but I think it adds to the card perfectly by creating a nice, subtle background.  I wanted the dragonfly to shine on it's own.
Another background option is with the Hardwood background stamp shown here:
A few more details
I wanted this dreamy dragonfly to have just a touch of bling, so I painted it's wings with Wink of Stella and added just one rhinestone.  Wink of Stella is an amazing glitter brush that adds a subtle amount of glitter with a quick brushstroke and no mess.  I can't seem to photograph the effect of Wink of Stella, but the beautiful shimmer is there.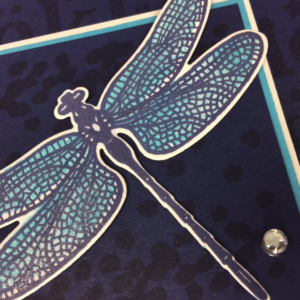 My inspiration for this card came from a business card I picked up a little while ago (before the stamp set was even released).  I just loved it and held onto it for an inspiration piece to use someday.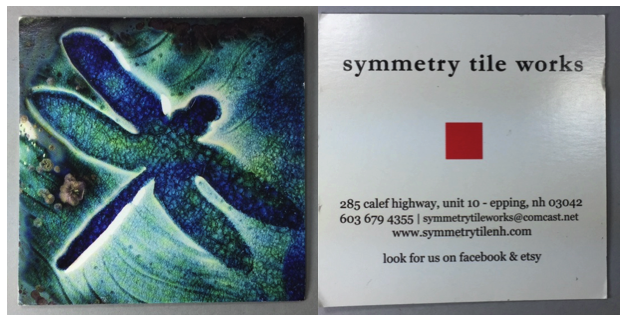 My card isn't exactly like this business card because I wanted to incorporate my design into the challenge, but I think it's influences are there.  If I were to make more of a replica, I would do a watercolor wash as the background, add more shimmer with copper and maybe a little gold embossing powder.
I would love to know what you think, so please leave a happy comment.  If you are interested in purchasing the Dragonfly Dreams stamp set and Detailed Dragonfly Framelits, just hop on over to my store, or click on the highlighted links.  Both are even sold as a bundle saving you 10%!  Thanks for stopping by and be sure to sign up for my mailing list.